8 sales deck examples that show how to win over prospects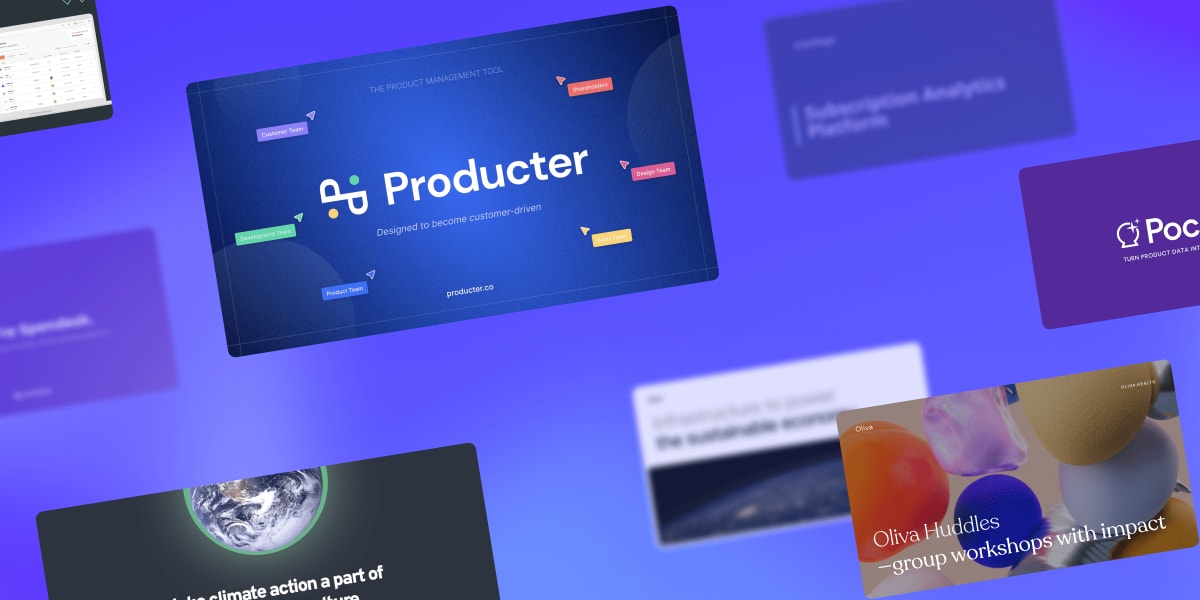 Every high-performing salesperson needs a set of materials they can rely on to effectively communicate value and quickly turn prospects into buyers. Usually, these materials take the form of a sales deck. That combination of words, visuals, and the charisma of the person presenting is a tried-and-true formula. And it's one that's easy to adapt to different audiences and circumstances so you can scale your sales efforts over time. Your sales team can present their sales pitch live, on a video call, or send the presentation as a pre-read or leave-behind. 
But creating and maintaining sales presentations that win new business is challenging. We've even published a step-by-step guide to sales presentations that goes into detail about how to source ideas for your decks, structure your deck, and best practices for delivering a presentation. 
Sometimes though, it's most useful to look at how companies similar to yours have created decks proven to work. In this article, we've brought together eight inspiring sales deck examples — and shared some tips and sales presentation templates along the way — to help you craft your own winning sales materials. 
1. Sastrify 
Sastrify provides software tools and services for high-growth companies, helping them buy all types of software as a service (SaaS) products more effectively. Often, multiple parties have a say in a buying decision. So Sastrify's sales deck breaks down the benefits for the three teams involved in their typical purchasing process: Finance, Procurement, and IT. They also anticipate questions and blockers with a list of FAQs on slide 10. This means any concerns about implementation hurdles can be addressed immediately, which shortens the sales cycle.
For a similar, team-by-team approach to guiding your prospect through the implementation process, try using our mutual action plan template.
2. Spendesk 
Spendesk is a spend management platform that helps users save time and money by giving them visibility into their company spending. Before prospective buyers go through the hassle of switching to a high-cost, long-term solution, they want to be sure they're investing in a best-in-breed product that offers stability, innovation, and quality. That's why Spendesk starts their deck with an overview of their rapid growth trajectory, followed by a list of the well-known brands already using the platform.
Demonstrate your own traction — and highlight well-known and respected customers — with a logo slide and testimonial quotes like those featured in our bold sales deck template
3. ChartMogul 
ChartMogul is an analytics platform that helps their users run subscription businesses. Their sales deck demonstrates best practice for a pre-read or leave-behind deck. The classic Problem-Solution-Benefits structure is easy to follow, even without a voiceover. This is the kind of deck you could easily send on to a colleague to win them over when you're already convinced about a new tool but need their go-ahead to commit.
What makes an async pitch even more convincing? A recording of you presenting it, tailored to your prospect. Our async sales deck template makes it easy to add recordings, so you can reach everyone — not just those in the room or on Zoom.
4. Pocus 
Pocus is the first product-led sales platform. Their sales deck explains that there's a global shift happening in the way we buy and sell. Opening your deck with a big change immediately creates urgency for the prospect: What am I going to do to respond to this big change? This format helped earn Zuora's deck the title of "greatest sales deck I've ever seen" from the legendary Andy Raskin. Starting in this way also clearly positions your offering as part of the solution to any challenges thrown up by the change. 
Use our sales proposal template to grab attention and open your sales deck with a big change.
5. Oliva 
Oliva offers workshops that help teams address their most pressing challenges. Their sales deck shows how important visuals and design are to a successful sales presentation — it's not just what you say in your deck, but how you say it. The GIF on slide 4 adds visual interest, and the consistent, calming design elements reflect the mission of the company and the solution it's offering.
For a similarly calming color palette, try our simple sales deck template. For general deck design inspiration, check out this article on creative presentation ideas.
6. Producter
Producter is a product management tool that helps companies become more customer-driven. Their sales pitch deck opens with a quantification of the scale of the problem they're trying to address; it then showcases testimonials from existing customers. This combination establishes what's at stake — and Producter's leading position as the company that has the solution.
Our project proposal template includes plenty of slides for stats and testimonials if you're using a similar structure.
7. Klima 
Often, your product speaks for itself. Klima is an app that fights climate change, and their B2B offering, "Klima for teams," helps companies reduce, offset, and learn about their carbon emissions. Their deck focuses on showing the app in action. It makes it easy for potential users to picture themselves regularly using the product — and reassures them that it would be easy to adopt Klima as a tool.
If your sales pitch is focused on highlighting product features, check out our product demo template.
8. Patch 
Patch is building the infrastructure for a sustainable economy, and their sales deck doesn't waste a single pixel. Challenge yourself to boil down your message to its simplest form. Then inspire your prospects with possibilities as you brainstorm the opportunities for collaboration together.
Our ad agency pitch template can easily be adapted to create a similarly pared-back, design-forward, and collaborative approach.
---
Get started on your winning sales deck
You should now have all you need to get started on building beautiful sales decks that can be used to drive deals. But creating a great sales deck is just the start of the journey. Set your team up for long-term success by:
Once you've created your own sales deck, you can publish it on Pitch's presentation gallery. Also, be sure to get in touch via our community, so we can add it to our collection of sales presentations. That way, other companies can learn about your offering — and get inspired by your deck.
Explore our sales deck templates