60+ product updates: Q1 in review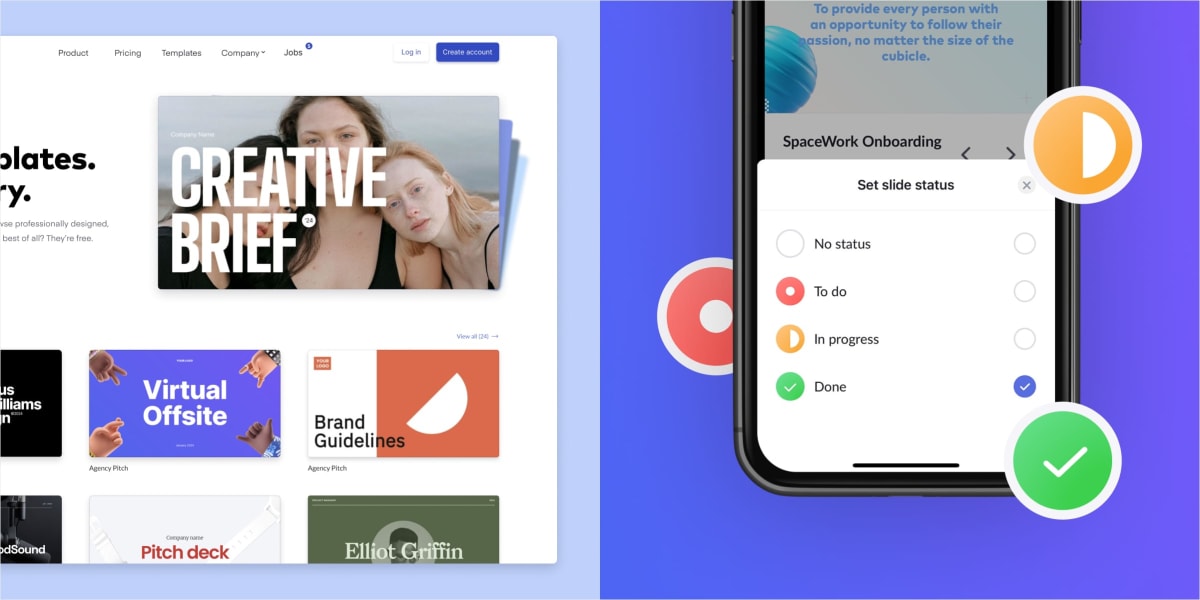 This time last year, we were in private beta with a few hundred teams. By October, more than 25,000 teams were working in Pitch. After reflecting on our launch we entered the new year with one clear focus: Make it simple for teams to get started with Pitch. 
Since January, we've shipped 13 new features and 55 improvements that make creating and collaborating on decks fast and easy. Check out the latest updates and see why it's never been a better time to get your team on board.
Make the switch to Pitch faster
When teams have a central space to work they can accomplish anything — from raising money to delivering more customer-centric products. But getting teams to change their ways of working can be tough, even when the benefits outweigh the temporary discomfort of doing things differently.
So this quarter, we set out to make it easy for teams to get started, migrate over their existing materials, and create beautiful decks quicker than ever.
Explore the template gallery 
We get a lot of love for our professionally designed presentation templates. But until recently, they were only available once you joined a workspace. This quarter, we made our template gallery public, enabling anyone to draw inspiration from more than 50 well-crafted templates. 
Our template team is growing and working to add more business-ready templates to the gallery. But we're also on the lookout for stellar presentations from the community. Interested in submitting? Share your best work here. 
Import PowerPoint files
Larger teams considering Pitch often have a lot of existing presentations or strict brand guidelines to adhere to. Our PowerPoint importer, now in beta, streamlines the process of migrating your work into Pitch. 
Upload a .pptx file — even if it was originally created in Keynote or Google Slides — to import your slides, text, shapes, images, and more. Take an extra minute to upload your fonts and adjust your presentation style to optimize your deck for Pitch. We have a dedicated team working to improve our PowerPoint importer each week — be sure to share your feedback on the beta and follow our What's New page for the latest updates.
Enjoy an improved editing experience
Building a new product means balancing innovation and foundation. After all, there are lots of small things presentation software needs to do to support your everyday work. 
This quarter we shipped dozens of quality-of-life updates to speed up your workflow and tap into your inner designer. For instance: 
Edit text and images like a pro: We gave our editor some love, replacing sliders with input fields, adding font search, and making it easier to resize and crop images. 
Create slick-looking charts in a few clicks: We shipped new chart types, legends, and multi-chart styling to make designing with data a breeze.
Get the guide on getting started 
In addition to product improvements, we also compiled our top tips into a sharable guide on making the switch to Pitch. Get the guide here.
Work across a variety of devices
Work happens wherever you are — it isn't limited to the office or a laptop. Early in Pitch's journey, we set the technical foundation for cross-platform support, enabling us to offer Pitch on the web, Windows, and macOS from the very beginning. This quarter, we started exploring new platforms and devices.
Review slides on the go with Pitch for iOS (beta) 
In February, our iPhone app entered beta, enabling teams to review slides, give feedback, and keep working moving forward — no matter where they are.
With Pitch for iOS, you can browse folders, open presentations, and scroll through slides in portrait or landscape mode. In addition to reviewing and responding to comments, we've infused the app with some of the workflow options that make working in Pitch efficient and delightful. Assign a slide to delegate work to a teammate, set a slide status to confirm a slide is approved, or add an emoji reaction to share quick feedback. 
We're still looking for more enthusiastic beta testers. Fill out this form to join the beta.
Build decks blazingly fast on Apple silicon
Most of the Pitch team uses Macbooks for our day-to-day work. When Apple introduced its M1 chips late last year, we were eager to get our hands on the new Macbooks to experience the performance upgrades firsthand. Excited by the possibilities, we wanted to make sure our desktop app was set up to take full advantage of Apple silicon. 
If you're using a Mac running on Apple silicon, Pitch for macOS is simply the fastest way to create stunning presentations. Download it here and see for yourself. 
Unlock new ways to work with others
Whether you're working with your internal team or external partners or customers, it's simple to create, share, and get feedback on your ideas. 
View and manage guests in one place
The need to collaborate isn't limited to your immediate team. That's why Pitch workspaces support members and guests. Members can view, edit, and create presentations in the workspace, while guests can view and edit specific presentations, but can't browse the workspace.
Before, guests were only visible from individual presentations, making it difficult to get an overall picture of who could access content in your workspace. 
In March, we introduced a centralized view of guests. Go to Workspace members to see a list of all guests who can view or edit presentations in your workspace or private folders. From there, you can update or revoke their access or promote guests to members. 
Follow collaborators to work more efficiently
Real-time editing has always been a point of pride for us. At the end of last year, we introduced live video collaboration and live cursors to make co-editing seamless and fun. With live video, we were able to support new use cases like team meetings and workshops, hosted right from the editor. But keeping teams on the same slide required active engagement from participants. 
Now, you can click on an editor's avatar and follow them through a deck while they switch slides and make edits. When used with live video collaboration, it's easy to run a meeting or workshop and keep everyone focused on the right content. If you have multiple moderators, you can quickly change who you're following — just click on the new moderator's avatar. We've been dogfooding this for team meetings, brainstorms, and leadership offsites, and it's greatly improved the virtual meeting experience. 
Q2 preview: Collaborate confidently
Over the next few months, we'll be focused on helping highly collaborative teams get more value out of Pitch. Here are some of the updates you can look forward to over the next few weeks. 
See all notifications in one place: Check your workspace for a new notification center. Now, when someone mentions you in a comment or assigns a slide to you, you'll be able to find out right away in Pitch.
Know who's viewed your work: Soon, Pro members will be able to see when other editors have viewed their presentations. This represents our first step toward granular presentation analytics, and we expect to share more updates here throughout the quarter.
Review and recover previous slide versions: The creative process gets messy sometimes. Soon, you'll be able to recover deleted slides or browse previous versions to ensure great ideas don't get lost.
Every week, we share all the need-to-know updates in our release notes. Check them out to make sure you're the first to know about new features in Pitch.