How to make the switch to Pitch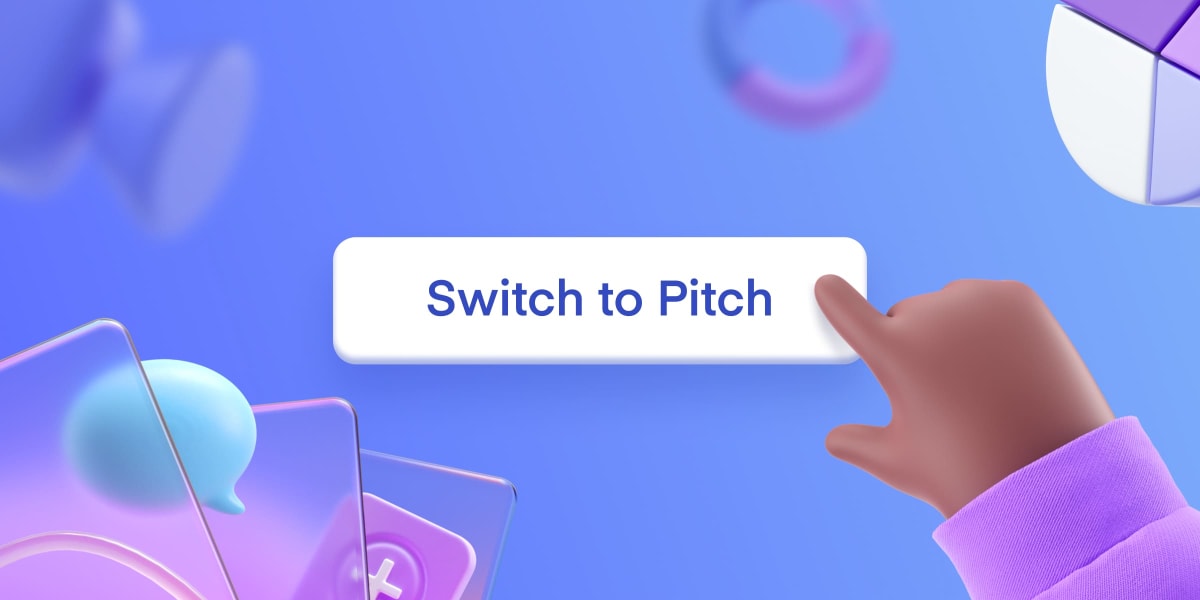 Convincing others to try new software is never easy. One of the most common questions we hear is, "How can I help my team get started?" After speaking with hundreds of people, we've put together a guide to help new teams successfully make the transition. Here are our top tips.
This guide is designed to help get your team up and running in Pitch, with tips for how to make the case for a new tool and plan your first project. This post includes highlights from the guide, but for more details and a comprehensive overview of how to make the switch to Pitch, make sure to check out the full version in the deck below.
4 steps to planning your first project in Pitch
The best way to get familiar with Pitch — and to help your team see how it can improve their everyday workflow — is to start with one real-world use case. Think of it as a pilot project. This will help you directly compare what work looked like before Pitch, and what it might look like after. 
Here are our tips for picking a project that demonstrates just how easy it is to create and collaborate in Pitch. 
Step 1: Identify a strong use case
Think about what issues or problems your team encounters with their current presentation software: Is it hard to work together? Does your design team not have enough time to help make presentations look good? Or perhaps it's hard to understand which decks are up to date and approved to use. 
Identifying the problems Pitch can most effectively solve for your team will help you pick the right type of presentation for your pilot project. Many teams choose to start with weekly team meetings or pitch decks because they naturally require cross-team collaboration, so everyone can see how much easier it is to work together and share feedback in Pitch. 
Step 2: Assemble your core team
It takes a village, as they say. And in no case is that more true than when it comes to getting buy-in for a new tool. As you make the switch to Pitch, you'll want a few people by your side. 
Early on, you should consider inviting a business lead and design lead to join you in the pilot project. In addition to these key stakeholders, you'll want to bring whoever you'd typically work with on your selected use case. So, if you're working on a deck for a product launch, you'll want to bring members from every team involved on board. If you're working on a partnership proposal, involve whoever will be pitching the partner.
Step 3: Get your workspace ready for your team
Workspaces help you bring all your presentations, templates, and brand assets together. As you start to make the transition, you and your core team will want to set up a few things so new members better understand what Pitch is all about.
Create a branded presentation style
Think of presentation styles like design guidelines for your slides. Styles set the defaults for elements like background colors, fonts, charts, shapes, and more. This way, everyone in your team can create presentations that are both beautiful — and on brand. 
We recommend creating two presentation styles to start — a light and a dark version of your core brand — but you can create as many as you like. Read more about styles here.  
Step 4: Make your first Pitch presentation
Once your workspace is set up and ready to go, it's time to start building your first presentation. If you already have content you'd like to bring over, you can save time by importing it into Pitch before continuing with your presentation design.
This week we released a beta version of our PowerPoint importer, which makes it simple to move your existing content into Pitch. It works with most .pptx files (meaning you can move over Keynote and Google Slides content too) so you can import basic slides, text, shapes, and images. Learn more about the importer here.
Save a brand template
Creating and saving a brand template is the best way to give your team the right tools to make beautiful decks quickly. Templates give everyone a solid starting point to work from, and in Pitch, any presentation can be saved as a template, making it easier to centrally manage changes.  
You can choose a template from our gallery, create a new one from scratch, or work from an existing presentation. The Switch to Pitch guide above contains step-by-step instructions for how to create your own custom template for your team. 
Share your presentation with your broader team 
After you've successfully created your first presentation, don't forget to show it off! Maybe you want to present it at your next company all-hands, embed it in your team notes on Notion, or create a Loom walkthrough you can share in Slack. 
When it comes to Pitch, seeing is truly believing.