Pitch's $85M Series B and what's next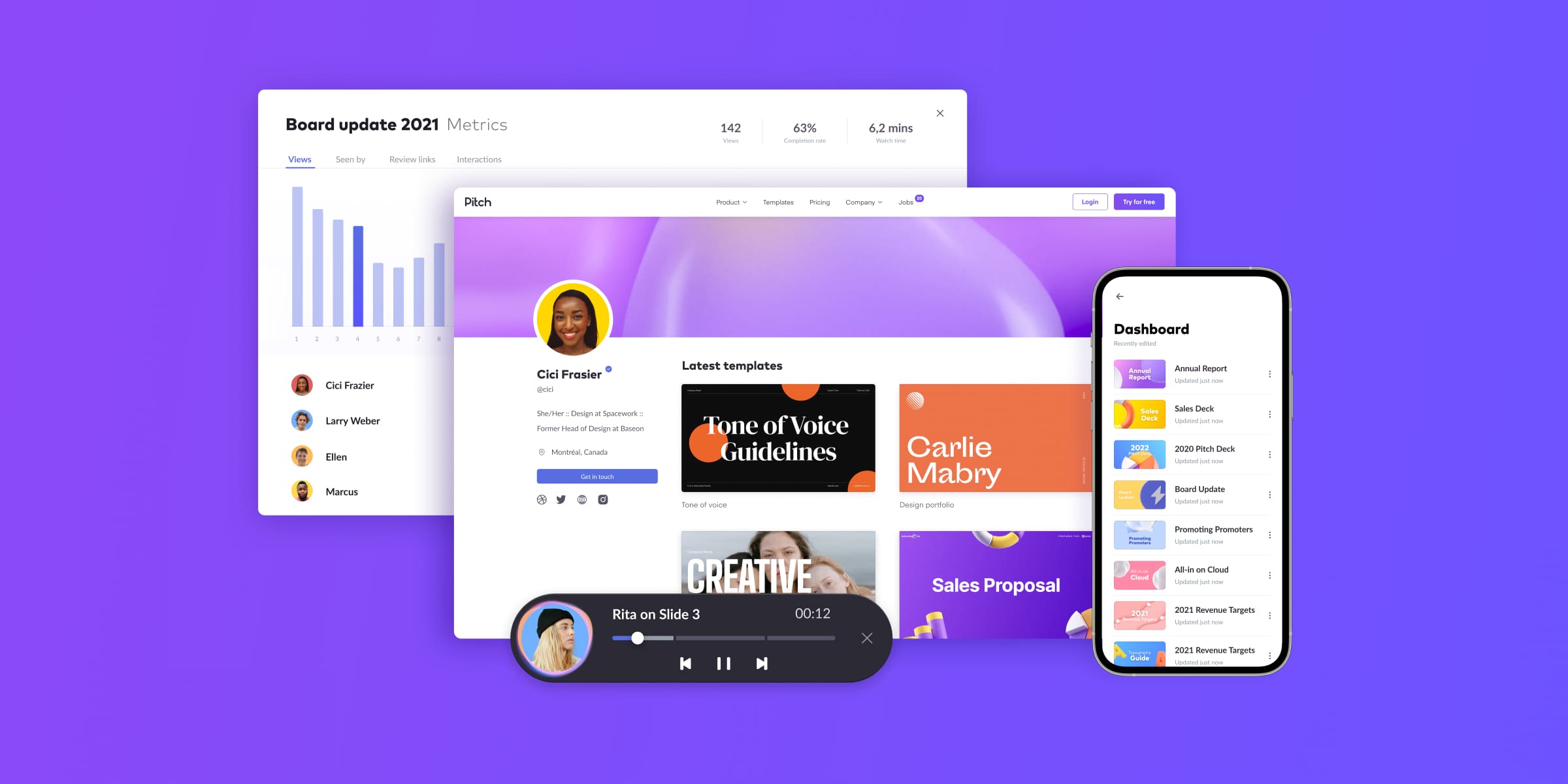 Since we launched Pitch publicly at the end of October last year, tens of thousands of new teams have adopted Pitch as their presentation software of choice, more than 125,000 workspaces have been created, and the positive feedback we've received from customers has been humbling. 
Today, a new chapter of the Pitch journey begins, and I'm incredibly excited to tell you more about our future roadmap as we turn Pitch into the world's first complete platform for presentations. But before I do that, let me share some exciting news with you.
I'm proud to announce that we've raised $85 million in Series B funding led by Lakestar and Tiger Global, and joined by our existing investors Thrive Capital and Index Ventures. This new investment will enable us to pursue our vision for Pitch, and we're unveiling the first pieces of that vision today. I'd like to take this opportunity to walk you through our journey so far, and what's next.
Since we founded Pitch in 2018, we've been incredibly focused on building the fastest and most delightful experience for teams to create, collaborate on and share beautiful, impactful presentations. Every week, we've released new features and updates to enhance our core product experience, and we will only accelerate from here.
Our roadmap for 2021 is jam-packed with major improvements, like animations and transitions, grouping, zooming, mobile apps for Android and iOS, more refined exporting options, even faster and more responsive real-time collaboration, and so much more — all while delivering best-in-class performance and reliability. 
But we didn't raise $85 million just to build a next-generation presentation tool. We raised this new funding to pursue the vision my co-founders and I started Pitch with: to build the first complete platform for presentations, where anyone can discover, create, collaborate on, present, and publish their best thinking. 
That means we're going to introduce exciting new experiences that unify the fragmented workflow of presenting, and what comes afterward. In the coming weeks we'll be rolling out several new pieces of that vision. Let me take you through a few initiatives you can expect to see very soon.
A full publishing and content ecosystem
Presentations are best at communicating complex ideas and thoughts in simple and digestible terms. Yet too many of our best ideas get overlooked or lost, because presentations have never had a dedicated home. It's time to change that.
We're building a full ecosystem for publishing and exchanging presentations and templates. We aim to connect anyone who's looking for inspiration with world-class content from top creators and brands to help them get started on their next presentation. Our vision is to turn Pitch into a thriving destination for the world's best thinkers and makers to share revolutionary ideas, and where everyone can express themselves with playful storytelling and share inspiring personal journeys.
The first pieces of this destination will arrive very soon: In the upcoming weeks, we'll roll out the first profile pages for creators. We'll be opening up access to everyone this summer, and we can't wait to see our community bring this ecosystem to life.
Advanced presentation analytics
The typical process of sharing a presentation is as fragmented as it can possibly be. For most of us, it usually means creating a deck, converting it into a static PDF, and either emailing it as an attachment or uploading it to an external service to transfer it. And when we do, we have little or no visibility into whether the recipient opened it, what they thought of it, whether they've shared it with others, or whether they even received it at all. We've all been flying blind.
We believe teams deserve an integrated workflow for distribution and performance. That's why we recently introduced presentation views, and we'll soon be rolling out major updates to enable secure sharing and advanced analytics right within Pitch. Expect custom links and password protection, as well as detailed insights into what's getting read, how much time it's taking, and which slides are most engaging.
Finally, teams sending presentations with Pitch will know exactly what's resonating, and what needs more work. Presentation analytics will be launched in multiple stages throughout the coming months.
Record and play back anywhere
We're in a new world of work. Meetings aren't happening strictly in conference rooms anymore, and teams have traded in-person standups for asynchronous, remote alignment. At Pitch, we're focused on making sure our tools stay ahead of the curve. 
So we're building new ways to highlight, record, and play back presentations in any context. We'll enable presenters to deliver expressive narratives that can be consumed anytime, and on any platform, and we'll give recipients the flexibility to get up to speed when they're ready, not when everyone's schedules happen to align.
Currently in beta testing, these new tools will be available very soon, and will ensure teams presenting with Pitch can keep audiences anywhere and everywhere engaged.
Where this is all headed
We've got no shortage of things to tackle this year. My most important job is to ensure we don't lose sight of the bigger picture, and the reason we're doing any of this. 
We believe in the power of teams. We believe that if we can unlock the full potential of presentations, teams will be stronger and more connected, companies will scale faster, and incredible new products will be conceived and brought to market.
In short, our mission at Pitch is to enable every team's best thinking. 
So, to wrap things up, what's next for Pitch:
Core product enhancements and new apps for iOS, iPadOS & Android
Publishing functionality and content ecosystem
Advanced presentation analytics & better sharing capabilities
Recording and playback features for asynchronous presentation delivery
This is just a sneak peek of what we're working on. We're thinking big, and we're building this for you. Thank you to all our employees, our customers, and our community. If you're as excited as we are about what we're building, please check out our careers page.
And if you haven't experienced Pitch yet, check it out and tell us what you think — it's free.
Best,
Christian