How JRNY's pitch deck stood out to investors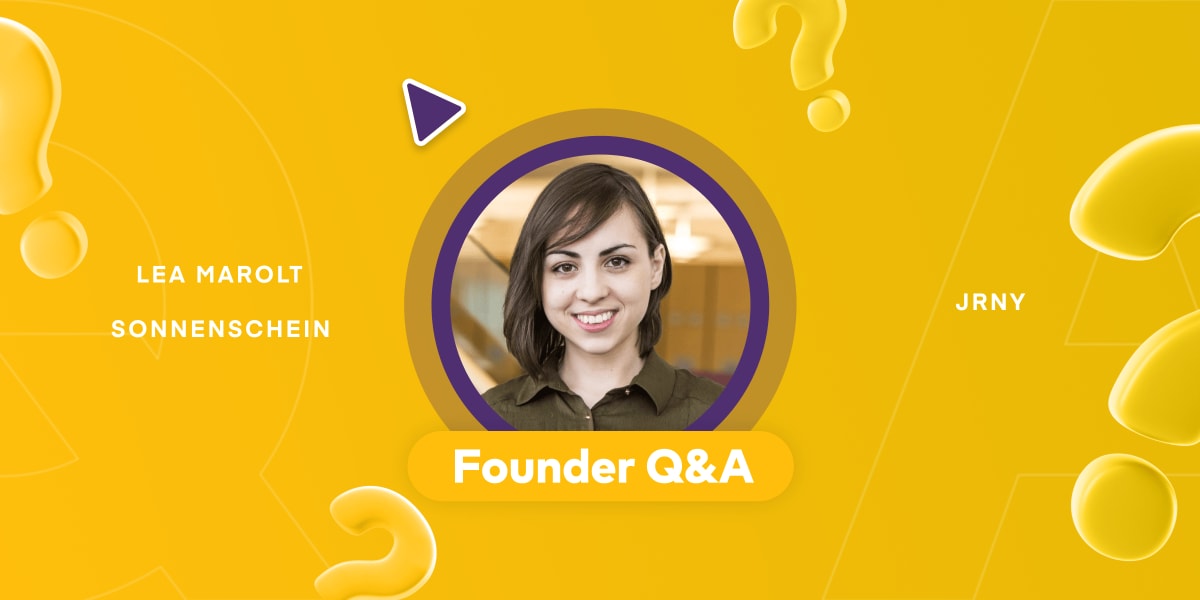 Bootstrapped in 2021 by founder and CEO Lea Marolt Sonnenschein, JRNY is a personal career coach powered by AI and human curation. Think Duolingo meets Headspace for career coaching on Slack. 
Through daily bite-sized exercises and on-demand access to coaching, JRNY helps users show their careers who's boss and have better conversations with their managers. It also enables companies to coach teams in a highly scalable way. The product is in beta and currently onboarding early customers. They're currently seeking to raise £500,000 in a pre-seed round.
In this Q&A, Lea breaks down the fundraising process for first-time founders, and shares her secrets to finding and connecting with the right investors. 
---
Let's start with your elevator pitch for JRNY.  
Lea: JRNY is your personal career coach that lives on Slack, powered by AI. We help employees navigate their careers with clarity and confidence through bite-sized exercises and personalized insights on Slack.
One of the big issues for employers is the cost of staff. They're expensive to recruit, expensive to train, and expensive to retain. We help companies prevent disengagement and attrition, and improve their culture and employee satisfaction with actionable steps based on anonymized data.
For example, we track how employees feel about eight key areas of workplace satisfaction. Let's say "recognition" is really low. We'd then recommend that the company educate their managers to be more proactive with celebrating wins and giving feedback and share some partners who could support with training and workshops. 
Were there any big changes to your deck before the final version we see here?
Lea: The deck went through so many changes, and it's actually evolved quite a bit from the version on Pitch! The biggest change I made before posting it on Pitch was making a catchy intro page, because I saw how bland it looked compared to the other decks in the Female-Founded Startups collection. 
This is the original intro slide, which isn't that eye-catching:  
Did you notice any changes once you switched out the opening slide? 
Lea: Yes! It seems to get a chuckle out of people, and really helps drive home the main point, which is the chatbot. Before, we didn't get to that until midway through the deck. 
One of the slides that people love the most is our "iceberg" slide. I hear time and time again how great that slide is. I did all the illustrations myself. 
Wow! You have to get creative when you're bootstrapped. Founders say fundraising is a full-time job. Can you break down what goes into it for future first-time founders?
Lea: It's hard — much harder than I thought it was going to be. For example, one thing that took up time was identifying our investors and company fit. This involved: 
Looking for lists and databases of angel investors and funds
Researching each and every one of them 
Matching their investment thesis with our product
Putting that into a spreadsheet to track it across the cycle 
Reaching out to people for warm introductions 
I spent so much time applying through VC websites, because I thought that someone was actually looking at them on the other end. It wasn't worth it because 98% of the time they don't. 
Once I figured out cold outreach wasn't working, my job became all about scheduling meetings, chasing people, keeping on top of email threads, and more. This is on top of crafting the pitch deck, the pitch itself, the data room, answering all the questions someone might ask, and more. I never know when someone might reply, and then have to drop everything immediately to jump on a call. 
How do you balance that while also trying to build a product?
Lea: You forget about the word "balance" for a while — at least in my case. I'm a product manager by heart, so I love building products, and can't wait to talk to users. I ensure to make time for that even though fundraising is top priority.
Our experience has been that when you include the users in the building and the conversation, they're in it with you. They've got your back. That's why we're seeing so many of our users refer their coworkers, peers, and friends. They believe in the mission, and they believe in me. 
There have been so many layoffs at large companies lately. What's your snapshot feeling about fundraising today?
Lea: You can see two camps in the VC community. One wants to stop everything right now — these are folks who were pouring money into companies that focused on growth over revenue, and acted more out of FOMO than anything else. I wouldn't want to partner with them anyway. The other camp realizes that NOW is the time to invest and get a great deal. 
I've seen what major layoffs do to the people who stay, and it sucks. Motivation is down, there's a ton of uncertainty, and people start to disengage. This is precisely when companies need JRNY, so that they can make sure the people who stay and are crucial to the success of the business feel supported, engaged, and motivated.
What skills would you like to take forward into your next round of fundraising? 
Lea: This is more a heads-up than a skill: Never reach out cold. Always go through a warm connection. Things will happen much faster. All our current angels happened through warm connections, and all the time and effort spent doing cold outreach was just wasted. 
The actual skill I'll need again is keeping a people CRM and managing that — I'm using Airtable. I wasn't the most organized person when we started, but this process certainly forced me to become one. 
Can you share any other observations about the fundraising process so far with other first-time founders? 
Lea: It's hard, but you'll learn a lot doing it. There are no shortcuts, and you just have to keep grinding at it. Most importantly, don't give up. There are thousands of investors out there, and someone, somewhere will fund you. But don't be surprised if it takes a few months. Some of my founder friends spent nine to twelve months fundraising before finally closing a round. 
Also, don't underestimate accelerators. They're a great hub-and-spoke approach to closing your first round. The equity you give up is negligible in terms of the trust mark and access to investors you get afterward. 
---
JRNY's pitch deck can be found in Pitch's Female-Founded Startups collection.
You've just read the third interview in our Founder Q&A series.  Keep an eye out for future Q&As with successful founders — and in the meantime, start building your own deck with one of Pitch's free templates. Our presentation software makes it easy to quickly and effectively pitch your idea to secure investment and grow your business.