Pitch & ChartMogul make reporting revenue easy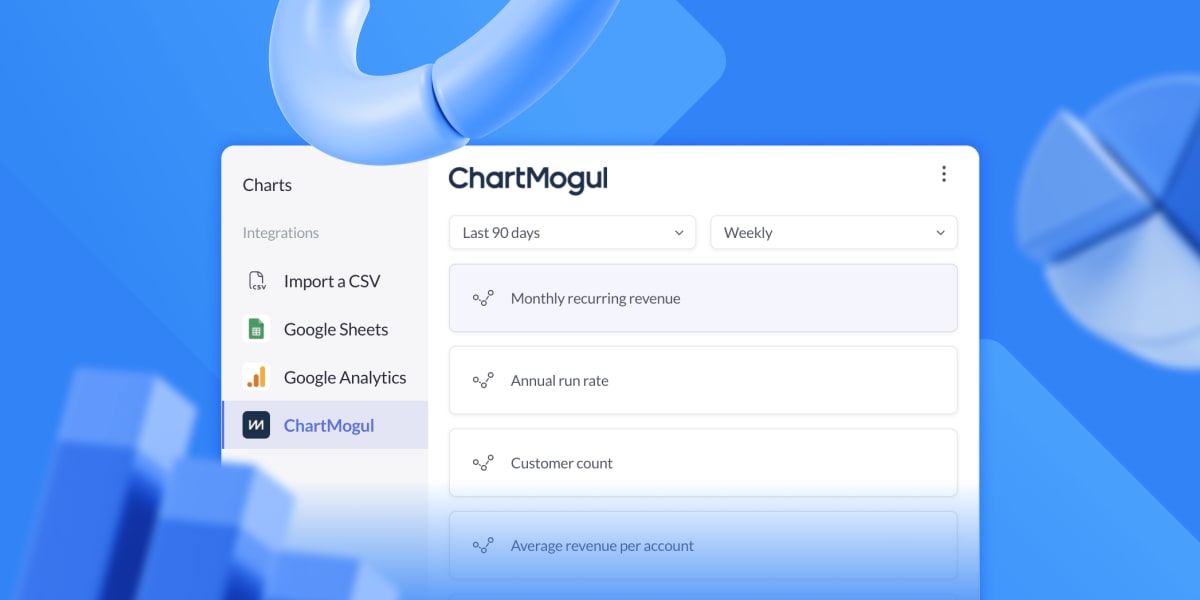 Growth is rarely a straightforward journey, and understanding it in context can feel like part art, part science. However, turning your latest revenue figures into accurate, beautiful reports shouldn't require any guesswork or ambiguity. Our brand new integration with ChartMogul makes it fast and easy to share your business' performance with stakeholders who need to know — right within Pitch. 
Whether growth is ahead of schedule or off track, shareholders, employees, and the board want to know what's going on and why. For leaders of product-led SaaS businesses, offering a clear-cut explanation isn't always easy, and even a strong quarter can turn into a tricky discussion. Founders need their revenue reports to work for them, and to be able to display the latest figures with ease.
Today, we're launching a new integration with ChartMogul to help you import revenue data into Pitch charts and report on your SaaS metrics in the context of your branded presentation. Together, we aim to take the pain out of revenue reporting and foster richer conversations around the metrics that drive a company's most important decisions. With this integration, teams can report on SaaS revenue metrics directly from Pitch and share beautiful reports with colleagues, investors, and other partners. 
How to build revenue reports with impact
What's the key to a successful revenue report? An accurate, transparent view into your metrics, the right context for your audience, and easy access for stakeholders who want to refer back asynchronously.
Here's how to build revenue reports that have the right impact, and how our latest integration can help supercharge your reporting workflow. 
1. Know your metrics
To succeed in SaaS, you need to be comfortable digging into the data to understand the dynamics impacting business growth.
Metrics like monthly recurring revenue (MRR), annual run rate (ARR), and average revenue per account (ARPA) help you highlight revenue growth. These show how you're succeeding at acquiring, converting, and expanding your customer base.
Churn rates and customer lifetime value (LTV) are indicators for retention. Spikes or dips in these metrics can alert you to issues with pricing, product, or customer support. Tackling these is imperative if you want to increase your rate of revenue growth over time. 
Together, these metrics help you better understand both how fast you're growing, as well as the factors that could limit your long-term success. All of these and more are available via our new integration.
When framing your data, just be sure to ask yourself: Who needs to know, and how will they benefit most from knowing? In many cases, it's better to focus the discussion around just a few of these metrics, so you spend time diagnosing issues, asking for support, and making plans to act.
2. Add the right context 
Numbers alone don't tell a story. It's critical to map revenue and growth to the real-world journey users go through within your product. Multimedia — like images, videos, and screenshots of feedback — can help others understand the context behind changes in your funnel. 
In this way, presentations are the perfect medium for helping everyone derive insight from data. They're flexible by nature: You can show the top insights stakeholders need for at-a-glance understanding of the overall situation, while adding on whatever level of detail you need for drilling into the details. And, with the added layer of multimedia visuals, you can add a more robust narrative to your numbers.  
3. Make it easy for everyone to access
Answering tricky questions about growth isn't always fun, but what's worse? An important stakeholder who didn't get the slides. Whether you're still refining your report or presenting the final figures, you need to ensure you get the right eyes on your reports at the right time. 
Using Pitch, you can make sure everyone can see and understand revenue numbers, even if they don't have access to data tools like ChartMogul or use them on a daily basis. Invite key stakeholders to the deck and let them digest the report in their own time. They can share their questions in comments, making it easy to keep all relevant conversations in one place. 
And for your peace of mind that your deck made the rounds, you can double-check who saw the report with presentation views (available for Pitch Pro members only). 
4. Keep it consistent
Build familiarity among your audience with the data by showing similar charts and slides over time, and the quality of your discussions around growth will improve. One way you can keep your reports consistent over time is by using templates. So, we've partnered with ChartMogul to create a free template that shows their key charts in action.
Start working with our investor update template to streamline your revenue reporting.
Introducing the Pitch & ChartMogul integration
We're building Pitch to help you spend time where it matters most. That means less time copying and pasting between destinations and more time analyzing and discussing your work. 
Since our launch, customers have told us that they love using Pitch for their most important presentations, like pitch decks, board decks, and company-wide updates. 
This integration was the natural next step. ChartMogul helps teams around the world stay on top of their SaaS revenue metrics, and this integration will provide users with a seamless way to represent their ChartMogul data in dynamic, beautiful presentations. 
"I'm incredibly excited about this integration as it automates something I've been doing manually for the past year, and it does it in a very elegant way," says Nick Franklin, ChartMogul's CEO and founder.
"We transitioned the whole team at ChartMogul onto Pitch and away from Google Slides and Keynote about a year ago. A big benefit for us is that we've seen the aesthetic bar for internal and external presentations raised across the company — it's just really hard to make an ugly-looking deck with Pitch."
We offered a few SaaS founders an early look. Here's what they had to say: 
"Having the option to pick any ChartMogul report with any time range and port it over to Pitch is a huge time-saver." — Glenn Rogers, CEO & founder of Float 

"The integration with Google Sheets and ChartMogul is really powerful for our weekly all-hands meeting. Everything is flowing nicely." — Pierre-Camille Hamana, CEO & founder of Hospitable.com
Ready to get started?
Our ChartMogul integration is available to everyone on our Starter plan and Pitch Pro. If you're a ChartMogul admin, you can connect ChartMogul and Pitch right away — learn how to authorize the integration. If you don't currently use ChartMogul, you can set up a free account here. 
Note: Data shown is made up for the purpose of the demonstration and does not represent current Pitch revenue numbers. 
Want more revenue reporting tips?
Once you've nailed revenue reporting and put some of our tips into practice, it's time to look into the future. Few people know more about revenue forecasting than Sara Archer, ChartMogul's Director of Sales and Marketing. 
She recently shared her knowledge in a Pitch Live talk. If you didn't catch it, you can read through her presentation to learn how to make an educated guess of your revenue's future. If you'd like to catch our next event live, make sure to register here.