From new templates that make pitching a breeze, to powerful integrations to visualize your revenue data, we've been hard at work this quarter! Since July, we've shipped 16 features and 53 improvements to help teams of all sizes create and collaborate more effectively.
Here's an overview of some key updates we shipped, how to get involved in our upcoming betas, and what we'll be working on throughout the rest of the year.
Create faster with new assets and editor improvements
Helping teams deliver better presentations faster remains a core focus for us. Over the past three months, we've shipped new templates, integrations, and ease-of-use improvements to spark your inspiration and add more flexibility in how you present your work. 
Choose from 18 new templates
Delivering a successful presentation starts with finding the right inspiration. Our new templates are here to support you across key work topics, like business plans, go-to-market strategies, communications plans, and investor reports. (And of course you'll find a couple new pitch deck templates to support you throughout your company's journey.)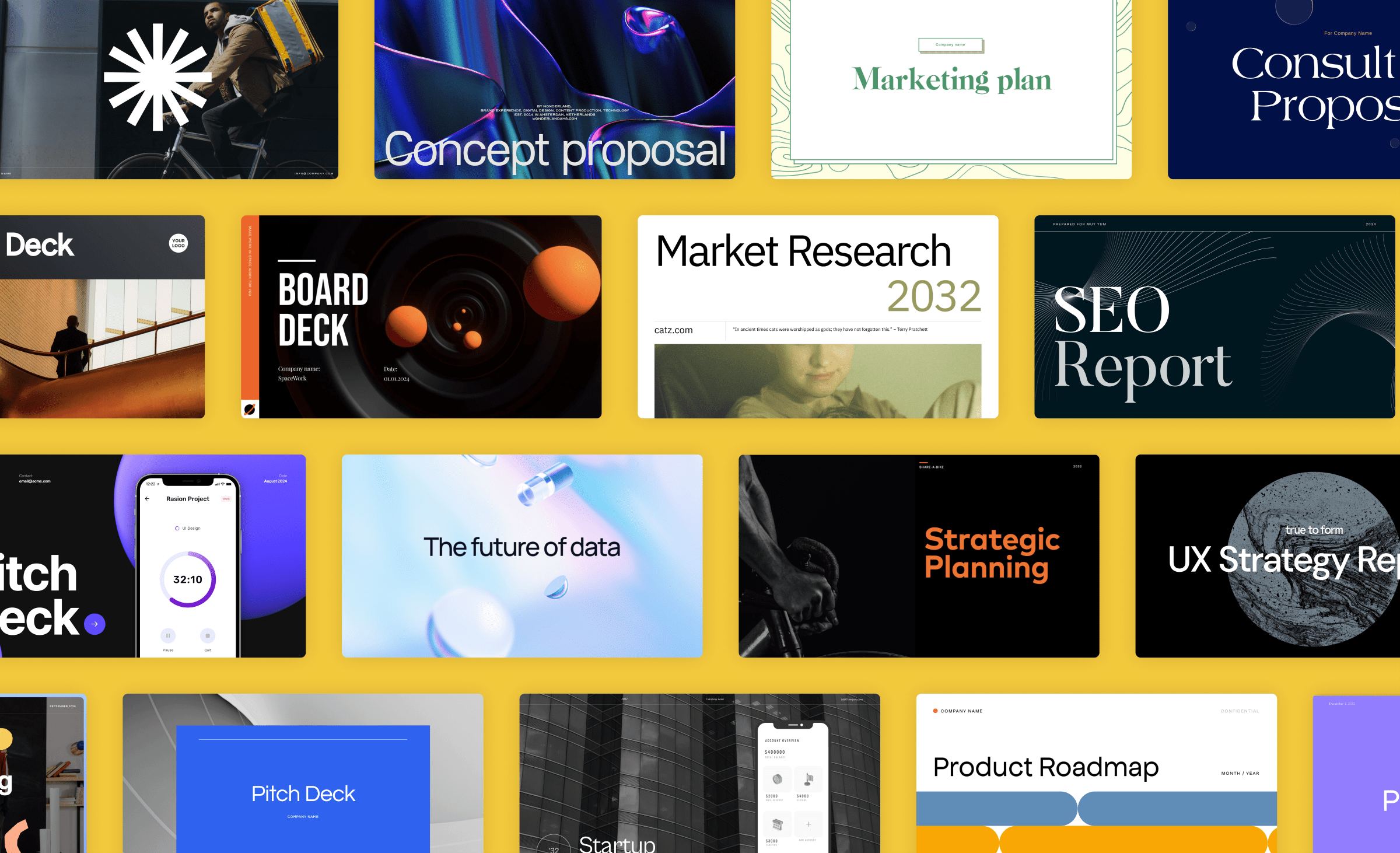 With more than 100 templates in our gallery, you'll always find the perfect starting point for your next presentation. Check them out here.  
Add personality to your slides with 3 new sticker packs
We heard that you love our stickers, but you need even more ways to express yourselves. This quarter, we expanded our sticker library to highlight more artistic styles. Make your point, Craft a plan, and Office flashback offer playful ways to draw attention to your ideas, manage workshops, and more. 
You can expect even more stickers in the months ahead. If you have a style in mind or know an artist we should collaborate with, let us know! 
Explore our newest integration
Who loves fiddling with chart formatting? Not us. In August, we launched our data integration with ChartMogul, making reporting on your recurring revenue metrics easier than ever. Now, instead of painstakingly pasting in data, you can create or update a chart in just a few clicks and seamlessly share the latest data with your team, investors, and other partners. 
We've also improved the charting experience in Pitch by overhauling the design controls, adding customizable color palettes to the editor, and making our number formatting more intuitive. 
Quickly style and edit slides
Presentation styles are one of our standout features — but for non-designers, they can be a little intimidating! After extensive user research, we started rolling out updates to make styles more accessible to everyone. We started by renaming them to slide styles, so it was clear that they were applied on a slide-by-slide basis, and that a presentation might contain multiple slide styles. 
Along with that, we redesigned the menu for slide styles, making it easier to understand which styles are in use and change styles across your entire presentation.
We also added several ease-of-use improvements to the editor to help you create faster without resorting to workarounds. Now you can hyperlink images, easily resize multiple blocks at once, and more.
Enjoy performance improvements across our apps
Our product teams work tirelessly behind the scenes to shave milliseconds off of every interaction. This quarter, they collaborated with our performance team to make our desktop, web, and mobile apps fast and responsive, no matter how big your presentations are. 
Launching the app and navigating between presentations and folders is snappier than ever, we've gotten video processing down to five seconds, and we've reduced the average size of PDF exports by a whopping 95%. Plus, collaborative editing is smoother than ever, so you can see exactly what others are doing when editing a slide in real time.  
🎮 Multiplayer editing in @Pitch just became significantly better – you can now see changes as they're happening. Plus, collaborators can edit the same block simultaneously. More collaboration improvements are coming soon: next up is text editing. pic.twitter.com/aU2p7HKB4J

— Christian Reber (@christianreber) August 24, 2021
Stay in sync with collaboration updates
Whether you're back in the office or still repping remote life, the need to collaborate effectively is as important as ever. Our latest updates are designed to help you keep a finger on the pulse of what's happening, work better with external stakeholders, and take your workflow with you. 
Subscribe to presentations
Earlier this year, we shipped our notification center and rolled out our first in-app notifications. But we know there are times you want to follow conversations and progress — even when you're not explicitly mentioned. Now you can subscribe to any presentation. Once subscribed, you'll receive notifications when anyone adds a comment or when slides are marked as Done. 
Invite guests to comment on decks
Previously, there were only two ways to work with people outside your workspace. You could invite them to view your presentation and restrict them from editing or sharing feedback, or you could invite them to edit the presentation and allow them to see everything happening behind the scenes. Both options worked, but lacked some nuance. 
At the end of July, we introduced an in-between option for the times when you want someone's feedback or approval but still want to place limits on how much they can see and edit. With comment-only access, guests can add comments, assign slides, and change slide statuses, but can't edit content or invite more collaborators. It's a great choice for getting client feedback or inviting an executive to Pitch in a more limited way. And remember, Pitch Pros: Guests are free, so you can invite as many people as you want to collaborate on presentations without impacting your monthly bill.  
Collaborate from any device
Our iPhone and Android apps entered beta earlier this year, giving teams a convenient way to keep work moving. This quarter, we focused on making Pitch for mobile more collaborative. Now, in addition to reviewing and giving feedback on presentations, you can share presentations with guests and members and even invite new members to join your workspace. 

As we get closer to launching our iPhone app, we've opened up beta access across both platforms. Download Pitch for mobile now. 
Participate in upcoming betas
Since the beginning, your feedback has been critical to refining the product experience and informing our roadmap. Now, as Pitch matures, we have several exciting features that require hands-on exploration and feedback before we bring them to the world. 
If you're the adventurous type, then here's your chance to get involved in our upcoming betas.
Analyze public presentation views
We all want to know when our work's been seen, right? With public views, you can see how many times a public link or embedded presentation has been viewed. If you're creating pitch decks, sales decks, or marketing materials in Pitch, public views will offer new insight into your work.

Public views represent the next step toward advanced presentation analytics, which will be rolled out incrementally in the coming months. 
Testing is currently underway. If you're currently on Pitch Pro, then reach out to join the beta. 
Embed any link on a slide
We view presentations as living documents — they should be as dynamic and interactive as any of the other ways you collaborate and share ideas. Up until now, our embeds have supported video services like YouTube, Vimeo, and Loom. But many of you want to embed prototypes, forms, social posts, and more. 
In this experimental beta, you'll be able to embed more types of content on your slides. We're looking for teams who are willing to get their hands dirty, report bugs, and share feedback with our product teams. If that's you, then sign up — testing starts in a few weeks!
Publish your big ideas on Pitch 
In June, we debuted our first creator profiles and teased the future of publishing on Pitch. We've been working to onboard our first creators, but we're still on the lookout for more storytellers. We're especially interested in presentations covering topics relevant to growing teams, like fundraising, hiring, marketing, business development, and design.
What's in it for you? In addition to securing your unique handle on Pitch, you'll have a chance to influence our publishing experience. Apply to secure your creator profile now. 
One year post-launch: What's next?
It's been nearly two years since we entered beta and one year since we launched Pitch to the world. To say this experience has been incredible would be an understatement. Your enthusiasm and willingness to share your feedback — and your work — have been inspiring. 
Throughout this journey, we've shipped updates nearly every week: 101 releases as of this week! This regular cadence is the rhythm that drives us.
As we wind down this year and look toward the future, we remain committed to realizing our product vision. And a large part of achieving that is ensuring that Pitch continues to be intuitive, fast, and delightful. So, in addition to the beta programs we mentioned, we'll be spending time refining the foundations of Pitch. That means: 
Tackling technical improvements around the editor
Paving the way for must-have (and much-anticipated) features like grouping blocks on a slide 
Polishing parts of the UI to be clearer and more consistent
So follow along, be part of the feature development journey, and connect with like-minded professionals in our Slack community!