Present async in your Notion workspace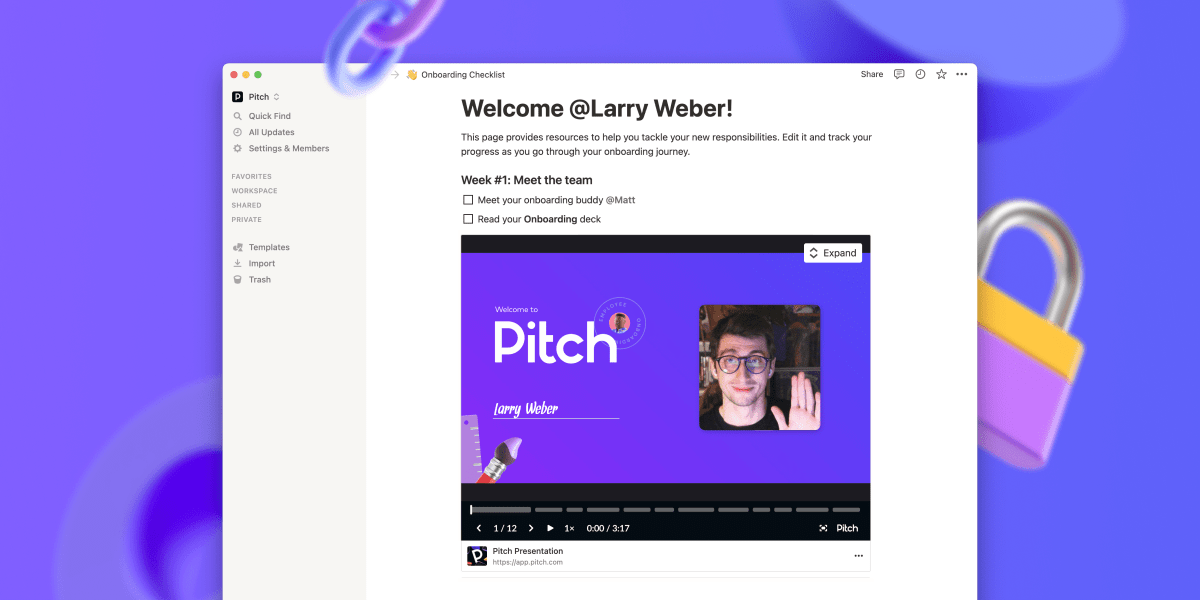 To work efficiently, modern teams need easy access to the latest information. We're introducing a new integration that helps teams embed any Pitch presentation in Notion so that teams can stay in sync, no matter where they're working.
Are you a fan of Notion? We sure are. Our teams use it for day-to-day project management, roadmap planning, and more. But when it comes to communicating our team's most important thinking — board decks, sales proposals, and all-hands updates, to name a few examples — we rely on Pitch.
We want to help teams stay more aligned by bringing all types of information closer together. That's why we're releasing our first external integration, built using Notion's link preview API. Link previews enable you to view always-up-to-date files from external tools like Dropbox, Figma, and now also Pitch, without leaving Notion.
Now, you can enrich your Notion pages with embedded presentations, from sales decks featuring recordings to company overviews to personal onboarding guides. Anyone in your Notion workspace can review important presentations, even if they don't have a Pitch account. And you don't have to make presentations public or invite teammates as guests to share vital company knowledge.
Get started with Pitch link previews
With link previews, you can display private data securely and across multiple pages, unlike with Notion embeds that require public access to individual files. Simply paste a link and let anyone with access to the Notion page browse your presentation, even if they're not a member of your Pitch workspace. All links are continuously updated, so you can rest assured that your teammates always see the latest version of your slides. 
Start by pasting a Pitch link on any page and then authorizing the integration to turn the static link into a live preview. You only need to do this once. Next time, just paste a link.
See link previews in action with two free templates
We've created two Notion templates to showcase internal workflows where link previews shine.
At Pitch, we welcome new colleagues with a personal onboarding page. Inside, we list several resources, like an onboarding deck from their new manager, our employee handbook, and an overview of their first project. Looking to set new teammates up for success faster? Start with our onboarding template.
Or perhaps your sales team tracks prospects and leads in Notion? If you send personalized sales decks to individual clients, then our deal room template will help you keep everything in one place.
Together with Notion, we strive to help teams securely and effortlessly sync up-to-date information. We built our new integration to empower your team with a single source of truth and reduce context switching between tools and time wasted searching to find the right files. We'd love to hear how link previews help you and your team centralize important information — join our community to share your thoughts and help us prioritize future integrations.