How a small design team supports growing needs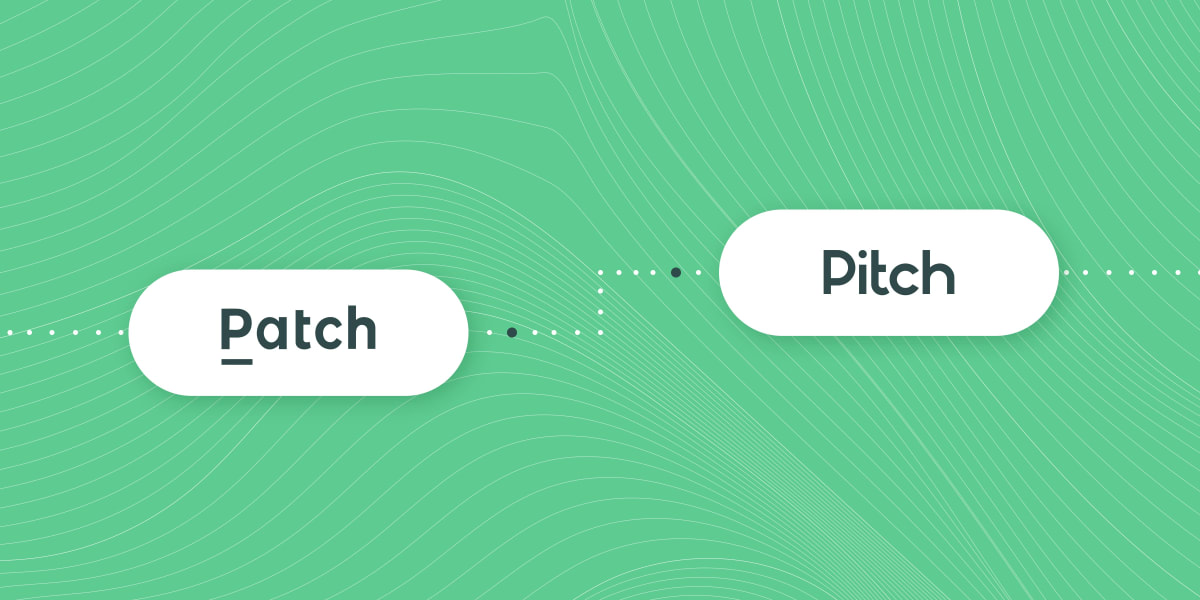 Patch is on a mission to help businesses mitigate their carbon footprint through carbon removal projects. As they look to the next stage of growth for their business, scaling efficiently is top of mind. Using Pitch, they are able to improve sales productivity, stay in sync, and invest their small but mighty design team's time where it matters most.
As anyone who has worked in a startup knows, you often need to wear many different hats in the early stages. Maroun Najjar, who joined Patch as the first designer in the company, was all too familiar with this.
Maroun was responsible for everything from product design and UI language to creating brand assets and brand guidelines. With so many tasks pulling him in different directions, he needed to simplify his workflow wherever possible.
Giving the sales team the right tools for the job
When Maroun started at Patch, equipping the sales team with decks was an immediate priority. For a company in an emerging industry like carbon removal, masterful storytelling is a must.
"We all know there is too much carbon in the atmosphere. Step one is to stop emitting it. But step two — which is going to take us many decades — is to pull it back out so we can reverse the damage that's been done," Maroun explains. "On one end, we help businesses offset their carbon footprint. And on the other, we help carbon removal projects and small businesses get sales, get funding, and enable them to really scale their operations."
Patch needs to do more than just sell to prospective customers: They also need to explain the need for their product and give clients background information about the industry as a whole.
"Our sales team needs to do a lot of education," Maroun explains. "Everyone we talk to is at a different stage of knowledge, but the team was really good at meeting clients where they were."
Despite the fact that Patch's sales team had a strong narrative and knew how to tailor it to an individual prospect's needs, they didn't have the right tools to translate this story into slides. At the time, they were using Google Slides, but it wasn't effectively showcasing the team's great work.
"Google Slides just wasn't serving our needs. It didn't live up to the quality of the storytelling and selling," Maroun says. "They were doing all of this with what was essentially a wooden spoon, when they should have been given a chef's knife."
Pretty quickly, it became apparent to Maroun that he needed to find the team a better solution, one that offered both structure and flexibility. He wanted to equip them with beautiful core visuals and templates they could reuse and tweak, but also a sandbox to play in to support their storytelling.
This would help the team's storytelling skills shine while giving Maroun the ability to focus on scaling other elements of the company's design systems, instead of designing individual sales decks.
Making the switch to Pitch early on
As Maroun began to seek out other options, he wanted to find something fresh. As a veteran designer, he was familiar with all the major players in the presentation world.
"I've worked extensively in Google Slides — it's my least favorite. I worked in Keynote quite a bit, but it doesn't hit the mark collaboration-wise," he explains.
"I needed something that could help us tell really beautiful visual stories without requiring me to design every single slide. It had to have strong design features, be built to scale, and allow people to work quickly."
Pitch had promise, but as a newer product, he wanted to know he was making the best long-term investment for the team. Seeing the What's New page and Pitch's weekly release cadence instilled confidence that Patch and Pitch could grow together.
"I went through and read all of the previous release notes, and the speed and the velocity of the team there just makes me feel like if something we need isn't in Pitch today, it'll be there soon."
Once he started exploring templates, he knew he had the right tool to support the sales team's storytelling. Maroun set up flexible templates for the go-to-market and supply teams with a variety of layouts, messages, and explainers. With these templates, anyone could quickly put together a personalized deck without having to create anything from scratch.
"With Pitch, we can create presentation templates that have all the visuals the sales team needs, and then let them pick and choose what they want to use for any individual conversation."
Maroun was sold, but the next step was getting the team on board. At first, he faced hesitation. It was easier to stick to the status quo than investing the time to learn a new tool.
"There's always a degree of, 'I have a lot of work to do, and now you're asking me to learn a new tool.' But I think what really got people to download the software was that we'd created a really beautiful template," he says.
By setting up templates for the team, Maroun made it simple for the rest of his team to get started and quickly see the value Pitch had to offer.
"They wanted to uplevel their visual communication, and that got them in. Then they quickly got up and running with Pitch — I think it took probably a week to get everyone on board and using it actively. That's really impressive for new productivity software — that's a very fast adoption curve." Unlocking more power, collaboration, and inspiration
With Pitch, Maroun can spend more time supporting the sales team in the right ways, and the sales team can do what they do best. Making the transition to Pitch unlocked three main benefits for the team: more power, more collaboration, and more inspiration.
"Now, we have a much more powerful tool to help our sales folks go out and tell the stories they need to tell. Visually, their work is on a completely different level than it used to be, and that's thanks to what Pitch has enabled. Pitch helps us make really beautiful work, and that bolsters the storytelling our sales folks can do. In my mind, that was one of the core reasons we decided to go with Pitch."
In addition to helping them deliver a stronger final product, Pitch has given the team a smarter way to work together.
"Pitch has allowed us to get a lot more organized around our message and to learn from one another. The workspace and collaboration features have empowered the team to unify how we talk about our product and its benefits."
Looking ahead, Maroun is excited for what's to come and inspired by the possibilities of what Pitch will release next.
"When new updates ship, they uplevel us a bit more. Pitch is helping the team evolve as we go."
As Patch's design team grows, Maroun can rest easy knowing that Pitch will scale with them, constantly helping them achieve more and work more efficiently.