Templates for live video collaboration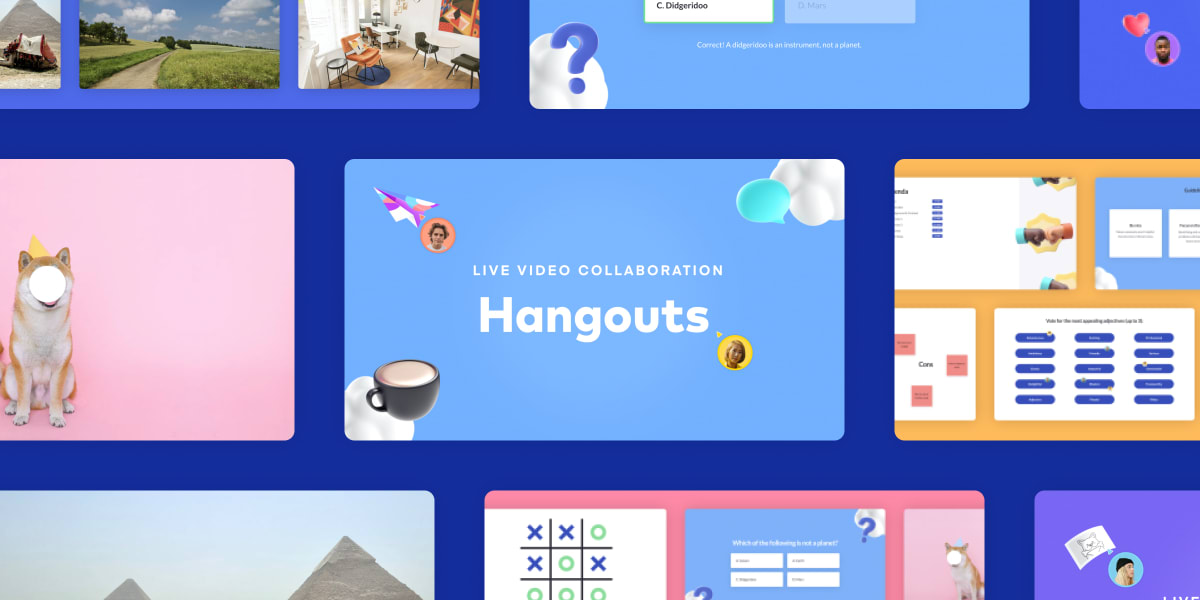 Collaboration can be complicated. We know this all too well. In the past, building a presentation meant using more than one tool to get the job done. Feedback would flow in through email and Slack, and then you'd have to send a Zoom link to share your screen to edit your deck together. All of which means a ton of back and forth, and a ton of valuable time lost.
Last month we shipped live video collaboration, a new way for teams to host video or audio calls directly in a presentation. Collaborate on a slide, hold a team meeting, or have a casual chat when you notice someone working on the same deck.
Let's say a copywriter and designer are both teaming up on a case study deck or partnership proposal. With live video collaboration, they can run through a feedback round in real time and edit on the fly instead of wasting energy on endless back and forths.
In a world where work is increasingly happening remotely, this makes working together truly collaborative. Because while it's great to see what others are doing, sometimes you want to talk through the details together in real time. It's also great for spontaneous collaboration. If you're in a presentation and see another teammate is viewing it, you can start a live session to start working together or to simply say hi.
Live video collaboration templates
Ready to get started? We created a set of presentation templates that are designed to work alongside live video collaboration to showcase some of the most popular use cases and give you a bit of inspiration.
There are tons of creative ways to put live video collaboration to use for everything from professional brainstorming to social bonding. After all, we may not be able to recreate water cooler chats, but we can make presentations a place for spontaneity and fun.
Host a remote workshop like a pro
Brainstorming. Whiteboarding. The vestiges of office life. Workshops are a good reason/excuse to get in a room together (albeit in a virtual one) and quickly figure out a lot of things in one hour. While workshops offer a space for creativity and free-form thinking, going into them with a solid structure helps you ensure everyone's time is well spent.
Work hard, play hard with interactive games
You'd never think you'd play bingo in Pitch, did you? Not a typical part of an app for making slides, but then again — why not? In between all the Serious Business Stuff you might as well have some moments of silly fun and joy, too. Featuring crowd favorites like tic-tac-toe, checkers, and bingo. Coming soon: StarCraft II and Quake III Arena.
Get the team together virtually in hangouts
Granted, it requires a bit of imagination to pretend you're on a boat when in fact you're nowhere near coastline and just overall very much ashore — but just consider that never a sudden jump from a living room to Stonehenge to a middle-of-nowhere highway was so possible. This collection of backdrops lets you host a virtual hangout (or happy hour) in a variety of beautiful places. Get your team together and start exploring.