3 ways we use Pitch & Notion as a remote team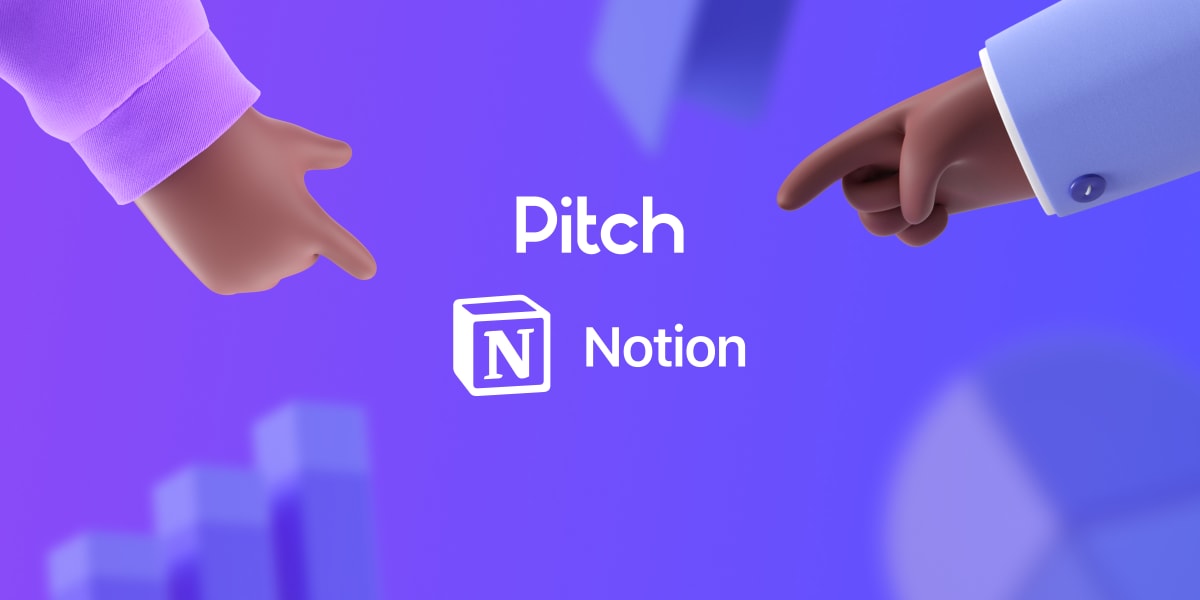 A decade ago, there was a small set of options for software, and we did the best we could with what was at our disposal. We repurposed Excel to help us with project management, used Google Docs to keep running lists of tasks and due dates, and relied on outdated presentation software to help us share our thinking with others. 
But in recent years, all that has changed. Rather than change the way we work to fit with the capabilities of the tools we use, we're building tools that work the way we need them to. Now that we no longer have to struggle to do our daily tasks, we can find ways to build on top of our modern toolstack so that 1+1=3.
How we use Notion & Pitch together
From the beginning, we at Pitch have been huge fans of Notion. Like us, they're a new type of software, ones that are built for people who care about using tools that not only empower their work but are fun and delightful to use.
We've written before about how we use Notion as a "single source of truth" to house our internal documentation. It's become an indispensable tool that powers our design processes, product teams, and project management. And Notion and Pitch together are a powerful duo.
We're big proponents of having a single source of truth, but we also know different truths need different tools. There are times when the information we need to show is better suited for slides, and others when the best format is a deep dive Notion page. From weekly team updates to quarterly roadmap planning, here are three ways we use Pitch and Notion to work better as a remote team.
Use case #1: Project management
Project managers need to be able to zoom in and zoom out. They need to see the big picture to understand where everything stands, but they also need to be able to dig into the details.
Whether a quarterly roadmap or ongoing production workflow, this is where Pitch and Notion's synergy really shines. Presentations are great for visualizing timelines, milestones, and other progress points, but these often need to be broken down into more concrete roadmaps and task lists.
We use Notion to zoom in, and Pitch to zoom out. With Pitch, we can show where the project stands as a whole, and then we link out to the relevant pages in Notion so the right stakeholders can get a better grasp on all the moving pieces.
For example, in our weekly template production sync, we meet using live video collaboration in Pitch to review the high-level progress on our production pipeline. The slide then links out to our more detailed roadmaps in Notion, which offer a step-by-step view of where any given template sits in the pipeline.
This ensures our team has a shared view of progress, and that each individual member has the right level of detail. Not everyone needs to know the status of each and every task, but most stakeholders want to get an at-a-glance understanding of the overall progress of a project. Using Pitch and Notion together allows us to give an overview to those who need it, while still offering an opportunity to drill down to those who are interested.
We built Pitch to handle many types of embedded media, so it's no surprise that it's one of the things we love most about Notion too. By embedding Pitch presentations directly into Notion, people viewing a project page in Notion can easily scan through related decks. 
Learn more about embedding Pitch presentations here.
Use case #2: Recurring team updates
Meetings and emails aren't always the ideal format for sharing updates. You can only put so much into an email before it becomes too long, and the time-bound nature of meetings means you're forced to edit or cut out information. But the combination of Pitch and Notion helps us present information in a flexible format, allowing us to highlight key points while also offering space for deeper explorations.
Notion and Pitch really deliver for us when it comes to updates we need to create and share on an ongoing basis, like monthly all-hands, weekly huddles, or daily team standups.
One of our most common use cases for sharing updates is our weekly team bulletin. In it, each team gives a high-level overview of what they're working on that week and then links out to Notion pages that contain more information for people who'd like a more detailed look.
For example, a product team may share a new feature they're working on in the bulletin, and then use the slide to link out to more documentation or a video explainer. Or a project manager could use the bulletin to provide a quick status update, and then link out to the full project plan in Notion.
The asynchronous nature of bulletins means everyone has time to thoughtfully consume and comment on ongoing work across the company. People can skim through the slides with their Monday morning coffee, and click through to the relevant Notion pages to get more information on the updates that interest them.
Want to know more about bulletins? We wrote a whole post on how we use weekly team bulletins at Pitch — check it out.
Use case #3: Enhancing the remote employee onboarding experience
We've always been remote-friendly, but like many other companies, the pandemic gave us a reason to take a look at how remote-optimized our internal processes were. Part of this meant considering how new employees digest the information they receive in their first days of joining our company.
For employees that join remotely, our internal tools are their main touchpoints with the company. While Slack is great for staying up-to-date on recent, ongoing conversations, it's not always the right medium for new team members who may not know what they're looking for (or where to look).
At Pitch, we use Notion as the hub for important information for new employees (like how to take days off, how to set up software, etc.). Notion is the ideal place to store this information because anyone can update the pages as needed, and new employees can feel free to leave comments and questions, tagging teammates depending on what they need.
One of our favorite parts of this page is our employee directory. Whenever someone new starts, they create a page with their name, title, photo, and a little bit about themselves. They can also link out to their social profiles or personal websites.
While Notion houses all of our important employee information, functioning as a sort of continuously updated employee handbook, we also create unique onboarding decks for each employee. These are tailored to their team and feature just the information they need to do their work efficiently.
Often, new employees are inundated with an overload of information, so creating a short deck helps us highlight just the most important information for them. And of course, these inevitably link back to Notion pages where employees can get more info on specific topics.
Notion & Pitch: Greater than the sum of the parts
These are just a few of the ways we use Notion and Pitch for internal documentation and knowledge sharing, but we're always stumbling upon new ways we can do more by using our tools together. Do you have creative examples for how you're using Pitch and Notion together? We'd love to hear!