Our plans for Pitch in 2020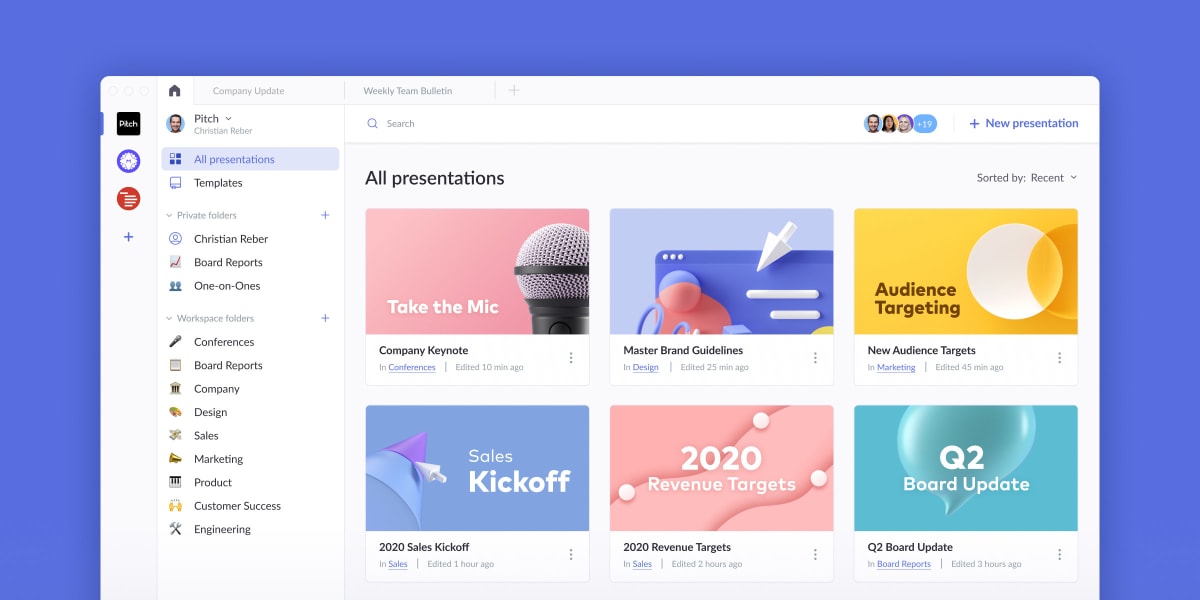 We've been busy behind the scenes working to build the future of presentations. It's time to give you a peek at what we've been up to and share what's coming next in 2020.
Since our founding, we've spoken to thousands of presentation creators and consumers. And we've learned a lot. Our biggest takeaway? Teams are tired of choosing between collaboration, efficiency, and aesthetics. You go to Google Slides when you need to work together, PowerPoint when you have to create something complex, and Keynote (or even Figma) when you want something to look great. But you can't do it all in one tool.
Now you can. Pitch helps teams create, collaborate on, and distribute better presentations faster and more effectively than ever before. Take a look.
Pitch is collaborative: Bring your team and their knowledge together
Collaboration sits at the heart of Pitch. Whether it's working with your immediate team, another group, or a customer, you can communicate and get things done efficiently, using any of your favorite devices.
It all starts with your workspace — the central destination for you and your team's presentations. Folders let you organize decks for easy discovery. And smart notifications will let you know which ones need your attention. Before Pitch, our early users relied on multiple presentation tools, with different versions of files scattered in the cloud or lost on someone's desktop. Having everything in one place has been hugely impactful in keeping teams aligned and up to date.
When it comes to sharing feedback, our features support real-world workflows. Leave comments, assign tasks, and share progress right from Pitch, without being intrusive or doing extra work. Imagine a project management system embedded in your presentation software.
Pitch is gorgeous: Create beautiful, on-brand presentations, no matter your design skills
Everyone wants their work to look good, but let's face it: Most of us aren't designers. Pitch enables teams to quickly create presentations that are beautiful and stay true to their brand.
All you need are your colors and fonts. Add them to Pitch and create your first template in minutes. Now, when your colleague in sales wants to work with a presentation, they won't need to install fonts or double-check a style guide. They'll always have the latest assets at their fingertips. As your brand evolves, you can easily update your styles and templates and immediately distribute them to your team.
If you don't have a template just yet, you can start with one of ours. We've created dozens of presentation templates that combine strong design with storytelling and support a variety of use cases, from team meetings to SEO reporting. Now you can put together the perfect deck in record time.
Pitch is fast: Build presentations with speed and precision
Designing presentations using today's tools can be a struggle. It can take hours to make something that only looks halfway decent. Inspired by modern collaboration and design tools, we're redefining the experience of creating presentations.
Our editing experience is fast, intuitive, and gets out of your way so you can focus on your message. Smart on-slide controls let you update content quickly without digging into menu options. Integrations from partners like Unsplash and Giphy enable you to source images, icons, or logos without opening a browser. In Pitch, there are no difficult-to-find features — everyone can feel like a power user.
We've also introduced more novel features, like our quick menu. Outline your deck, add and edit content, and share updates with others — all without leaving your keyboard. We want to help you make presentations as fast as you can think.
And this is just Pitch today. We have an ambitious roadmap we're working through between now and launch, with a particular focus on these three areas:
Powerful integrations: We're taking stale, static presentations and making them dynamic sources of information. Pitch will connect directly to the data you care about, so everyone has access to the latest numbers and news, without the hassle of manual updates. Let us know which integrations are most important to you.
A place for sharing and discovery: There are so many amazing ideas out there. We believe they should be available to and usable by everyone. We'll be introducing a way to get inspiration from others and publish your ideas to the world.

Cross-platform availability: Pitch is for every type of presentation creator — whether you work in the office, on the go, or in the air. Today we're available on the web, macOS, and Windows, with apps that work both online and offline. Mobile apps are on the way.
Pitch is so much more: Our launch plans for 2020
We can't wait to share Pitch with the world later this year! That being said, we don't have a planned launch date. Right now, our top priority is nailing the product experience with our beta users.
This month, we're onboarding our largest group: 250 teams! Scaling our beta in a controlled way lets us test hypotheses and process findings. Here's what the next several months will look like:
Want to be one of the first to experience what we're building? Make sure you're on our waitlist. By April, we'll be sending out invites to new teams every week.
I want to close by thanking everyone who's expressed interest in Pitch and what we're building. To our beta users: Thank you for your pioneering spirit and ongoing feedback. To those on our waitlist: Thank you for your belief in us, your enthusiasm, and your patience. You're much closer to experiencing Pitch than you think — stay tuned! Here's to 2020. 🚀