How Lumos raised $30M with Pitch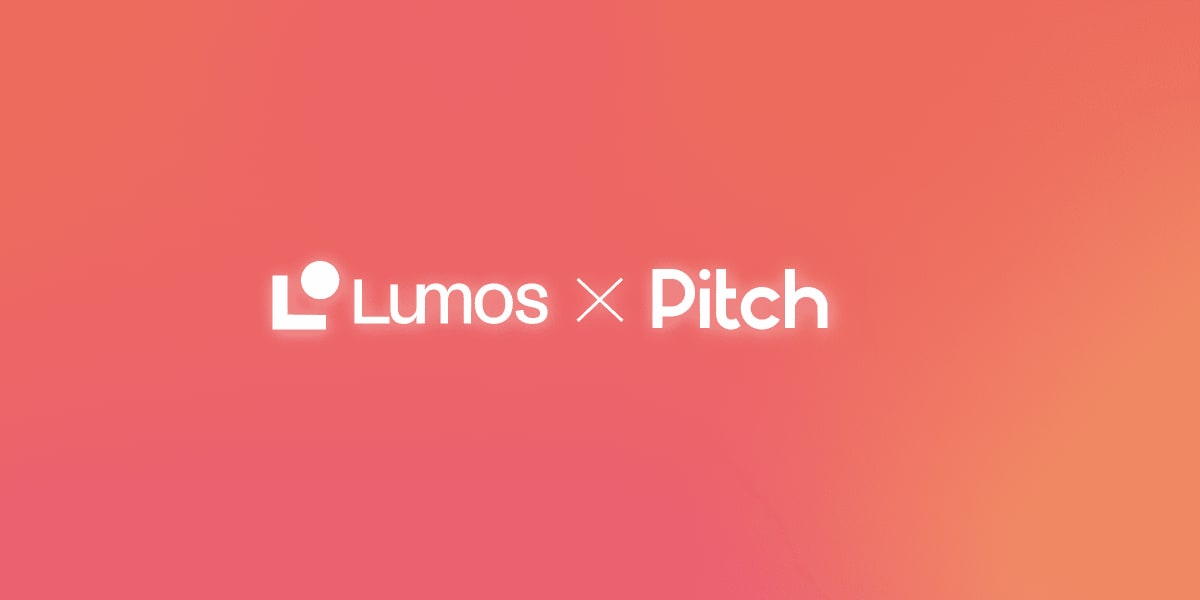 Think back to when you started your most recent job. How easy was it to get access to essential software, like GitHub, Dropbox, and Zoom? Chances are, there's some room for improvement. 
That's where Lumos comes in. They're building the first AppStore for companies, boosting employee productivity by helping them easily access the software they need, while ensuring companies stay compliant and maintain visibility over their software spend. 
The Lumos team modernizes enterprise application management, so they naturally look to adopt products that help modernize their internal processes. They started experimenting with Pitch for their seed round in 2020, and now it's their go-to presentation software. Pitch not only played a key role in their recent Series A raise but also supports their ongoing sales motion. 
Pitching the Lumos team on a new solution
Brando Vasquez, Branding and Design Lead at Lumos, joined Pitch's beta while still working at Microsoft. When he started working at Lumos, he was keen to bring Pitch with him. 
The Lumos team is made up of professionals who've spent years at enterprise companies, so they're acutely aware of the pitfalls of tools like PowerPoint and Google Slides. Mismatched fonts, version control, outdated messaging … the list goes on. Still, changing tools and ways of working can be uncomfortable. 
But Brando persisted. During his first weeks, the team put Pitch to the test against Google Slides and determined that — when it comes to business-critical work — presentation matters. 
"We used Google Slides for the everyday, unimportant stuff. When we wanted to build something that would really have an impact, we used Pitch," he explains. 
Why Pitch? Finally, Brando could set up slide styles and templates that stayed true to the brand and know that the rest of the team could comfortably and confidently work with them. 
"I don't need to worry that slides are going to be off-brand," he says. "I can essentially create my own style guide with custom fonts and edit templates quickly — way more effectively than with PowerPoint or Keynote. I'm happy to know that what we're building with Pitch are foundations that other people can work from."
When Lumos set out to secure seed capital, using Pitch was the obvious choice. And with that, the company officially left Google Slides behind.
Brando recalls, "We raised our seed round from Andreessen Horowitz and since then, every single presentation has been on Pitch."
Effective fundraising with seamless collaboration 
By the time Lumos was ready to secure its Series A, the team had fine-tuned their workflow in Pitch. Instead of thinking about design and passing files back and forth, they could put their full focus into communicating their product vision and securing $30 million in funding led by Andreessen Horowitz 
As a globally distributed team, being able to work together efficiently is key. 
Product Marketing Lead Sandi Green explains, "There's no lag time waiting for feedback on one version of a deck. When I'm working with Brando and others, it feels like we're in the same room."
Since collaboration often happens asynchronously, features like slide statuses keep the team aligned on which slides need refinement.
Now, what was once a lengthy back-and-forth hassle in her PowerPoint days is a simple process with a single source of truth. 
"There's no Lumos_Pitch_version_10_Final_Final_Final. That's not part of our reality," she says. 
Protecting Lumos' intellectual property and sensitive financial information was top of mind during the fundraising process. With Pitch, the ability to share links with specific individuals — instead of attaching PDFs or using third-party tools — gave them the sense of security they needed as they began to court investors. 
Demand Generation Lead Chris Frank notes, "The permissioning is great. Our decks contain a lot of sensitive information that we don't want to get outside of our control."
Transforming marketing from "glitter and glue" to getting stuff done
Brand consistency and collaboration aren't the only reasons Lumos chose Pitch. Pitch's template library and centralized workspaces make it easier for teams to work with approved messaging and communicate a consistent story. This is especially meaningful to Sandi, who's responsible for ensuring everyone knows how to talk about Lumos and its products. 
"One of the big parts of product marketing — especially at a hypergrowth startup — is sales enablement. And sales teams love to make their own slide decks. I think one of the root causes of that is that there's usually no place for a singular story. One thing I've loved about my time at Lumos now that we use Pitch is that we've settled on a story that works, and Pitch supports that."
With Pitch, the sales team knows exactly where to go to find approved slides, complete with the right messages. Instead of cleaning up slides and checking in on sales, Sandi can focus on more strategic initiatives. 
"Product marketing is not the glitter and glue team," Sandi explains. "We're here to make sure the story aligns with the brand and the strategy. Having the whole company all-in on Pitch makes it easy." 
Embracing a modern collaboration stack
Lumos wants to empower companies to choose the best tools for their teams. And they're leading by example, eschewing the Google Suite for products like Notion, Figma, and Pitch. 
"All my tools feel very in sync with each other," Brando notes.
With Pitch, off-brand slides, stilted collaboration, and clunky sharing are issues of the past. Now, the team can focus on bringing more modern workflows to the enterprise. 
Inspired to be more like Lumos? Learn how to help your team make the switch to Pitch.