Don't just present. Pitch.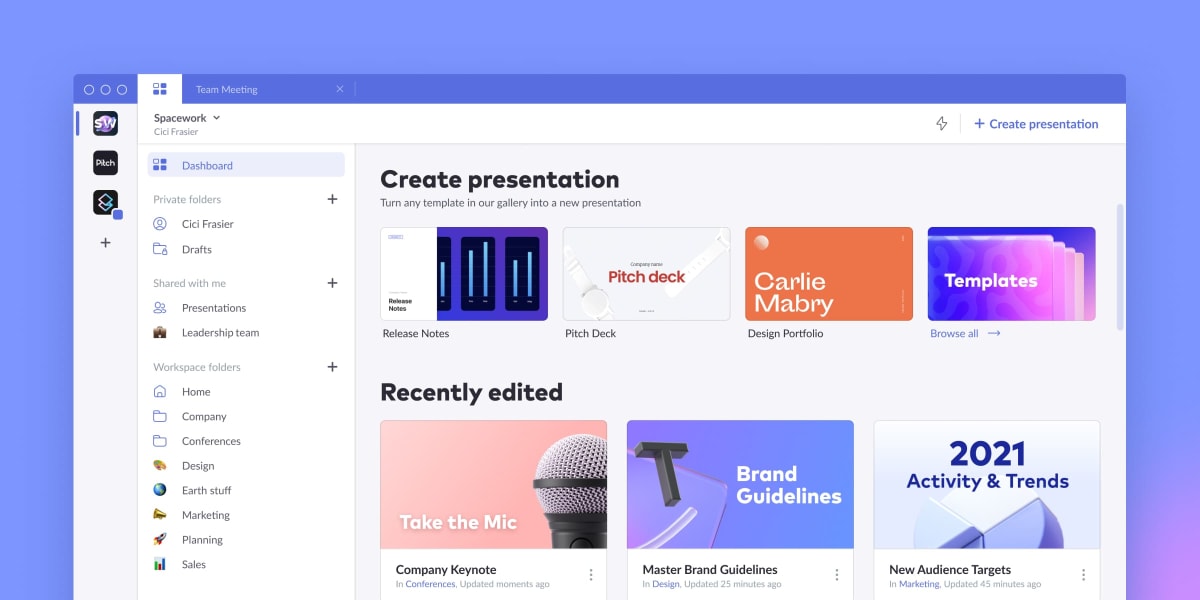 After two years of immense effort and a year-long beta that included more than 25,000 teams, including those at Intercom, Grammarly, and Notion, we're finally ready to open Pitch up to everyone. While today's launch is a massive milestone, it's also just the first step toward our ultimate goal of transforming how the world shapes and shares information.
Many of us have been using presentation software for the better part of our lives. Why build another one? It's simple: The tools we've grown up with haven't grown up with us. Legacy presentation tools force you into workarounds and compromises that slow you down and limit what you can do.
We've built Pitch to be uncompromisingly good presentation software — purpose-built for the needs of power users and teams like yours. Now you can get everything done, together, in one place. Without sacrificing on collaboration, aesthetics, or speed.
Along with today's launch, we're also introducing live video collaboration, a first-of-its-kind feature that builds on the seamless collaboration experience our customers already love.
Create together with live video collaboration
When we started Pitch, we set out to build the fastest and most collaborative way to create beautiful presentations. From the very beginning, we enabled teams to discuss ideas, co-create, delegate work, and track progress — all in one place.
The only thing you couldn't do was chat face to face in Pitch. Until now.
Today, we're introducing live video collaboration. Start a video call directly in a presentation and work together in real time. Use it to discuss a deck, hold a team meeting, or simply have an informal chat. Live video collaboration generates the kind of spontaneous collaboration and free flow of ideas that many of us took advantage of when working in a shared space with our team.
Design beautiful decks in record time
Throughout our beta, customers raved about Pitch's ease of use and the time they saved when creating new presentations. Every part of Pitch was crafted to help teams move quickly while improving the end result of their work, in particular:
Stylish and flexible templates: We pride ourselves on creating templates that are beautiful, informative, and practical. Our template gallery now has more than 40 custom-crafted templates built around visual themes and real-world use cases. With presentation styles, it takes literal seconds to customize our templates to make them look like yours.
A powerfully simple editing experience: We designed our editor to be the fastest, most intuitive way to create presentations, no matter your design skills. And then we redesigned it to be even better. Working with Pitch feels new and unique while being familiar in all of the best ways. There's no learning curve — just point, click, create.
Bring slides to life with powerful integrations
Pitch connects seamlessly with a variety of sources to help every deck look its best. In addition to our current integrations, like Unsplash, Giphy, YouTube, and Loom, we've recently introduced support for Google Analytics and Google Sheets. Now you can easily create charts that are up-to-date and accurate without having to manually copy and paste information.
This is just the beginning. We're already working on our next batch of integrations — Stripe, Typeform, and Mailchimp — and in 2021, we plan to open Pitch up to developers and partners who can build on top of Pitch.
Make next-level decks with Pitch Pro
With our launch, we're officially introducing a free plan as well as our premium plan, Pitch Pro.
Ideal for individuals and small teams, our Starter plan is and will always be free. We don't want to limit your team's ability to make beautiful, on-brand decks; therefore each workspace comes with unlimited users, presentations, templates, and font uploads.
Pitch Pro is for power users and fast-growing teams that use presentations as a way to build their business. Core features include additional permissions, video uploads, and unbranded PDF exports. Pitch Pro costs $10 per user, per month. You can take a closer look at each plan here.
Looking back on the past year
We've learned a lot about building a product, scaling our team, and processing customer feedback. We literally have thousands of entries on our product roadmap. There's still plenty we need and want to build, but we've made remarkable progress, shipping 72 new features, 210 improvements, and 260 bug fixes throughout the course of our beta.
Our team grew an incredible amount this year — from 60 to 90 while being fully remote. Our own product has become an essential tool for onboarding new hires and keeping teams connected. We have big ambitions for 2021 and beyond. If you're ready for your next adventure, we'd love to hear from you! Browse our jobs page to see all available positions.
Hands down, the most rewarding part of this journey has been working with customers, who have been unbelievably generous with their time and attention. Knowing that our product is already helping teams work faster and more collaboratively has been unbelievably motivating. It gets us even more excited for everything we're building. Here are a few examples of how Pitch is supporting teams of all sizes.
What's next for Pitch?
Building presentation software from the ground up is no easy feat. Since starting out, we've worked to balance laying the foundation with pushing the envelope for what modern presentation software can and should do. Over the next year, we'll continue that approach while we work to:
Support every device you create on: Our iOS app is already in beta and will launch soon; Android will follow soon after.
Help you connect any type of idea: We're doubling down on media and data integrations to help bring your presentations to life.
Close the loop on receiving feedback: Upcoming features like presentation analytics will make it easy to optimize your work without having to upload your decks to yet another piece of software.
Today's launch is the result of thousands of hours of conversations, brainstorming sessions, and meetings with presentation creators. We've worked to create something that can unlock your team's best thinking and help you share that knowledge anywhere. But it's just the start. As we continue building Pitch, we want to hear from you. We're on this journey together, and we can't wait to show you what's next.