As we prepared for public launch, we wanted to evolve the visual language of Pitch into the next stage in its development while not straying too far from the brand so many people have grown to love. 
We created a product with passionate users and were lucky to already have a strong base of fans who were excited about our brand's design. Why mess with something that's already working, you might ask?
Well, in some ways, the time had come. While we were among the first SaaS companies to popularize the sort of 3D illustrations Pitch became known for, as the style grew in popularity, we wanted to evolve to the next stage of what would make Pitch visually distinct. We wanted to stand out, not blend in. And more than that, we wanted to pave the way for what's next and play a part in setting the trends in the design world.
We also wanted to build a broader design language that thoughtfully considered how our visual assets played together and contributed to our wider brand messaging. It was important to us to stay true to our original design style while building a cohesive identity that could scale with us. In essence, to mature the brand while still keeping its fun and playfulness.
Making Pitch an iconic brand
In our early discussions, the question came up time and time again: What makes a brand iconic? When we thought of brands that were iconic to us, they shared a few defining aspects: They were simple. They were classic. They were bold. 
But more than that, they really resonated with their fans. They intuitively understood what was important to people at that time, and they stuck with their gut and weren't afraid to make bold choices based on this. They were memorable, not only because of their distinct color scheme or beautiful fonts, but because they continuously evolved in line with their audience and users. They didn't stagnate, didn't compromise. They were constantly raising the bar for themselves as well as the industry. 
"When you look around, it's clear that we're in the midst of this new wave trend in SaaS software: Modern teams want modern brands. And today, the value of brand to a business is unparalleled. In a world of commodities, brand is now the major differentiator," our CMO Thom Cummings says.
Pitch as a company — and as a brand — is centered on collaboration.
We've built our product to meet the needs of modern teams, teams like ours. And part of that collaborative spirit is about having fun, but it's also about how we can enable people to do their best work, better. And at the end of the day, we believe in building delightful products. So, how do we turn that from marketing speak into tangible visual assets? 
We've been really lucky to have an incredible crew of super talented designers who have helped us build a distinct and recognizable brand at such a young stage in our company. When Anna and Arek Kajda, our illustrators, began working on the first version of the Pitch website, no one had any idea how much it would take off. At a time when much of web design was focused on flat or isometric illustrations, Pitch made a bold decision to go in a new direction.
"We weren't sure how it would be received originally," Anna and Arek explained. "Whenever you try something different, it's always a risk. But once we started seeing the positive feedback, we knew we were onto something."
"We knew we had hit upon something that was working with the 3D characters and wanted to make sure it was carried with us to the next stage in our brand development," Anna and Arek explain. "We did, however, want to explore a more mature style in terms of proportions, colors, and possible situations interacting with the UI."
Together, our in-house design and brand team, in collaboration with the team from DesignStudio, set off on a journey to create a longer-term vision of what the Pitch brand could become. For our latest brand evolution, we used explorations from that project that incorporate elements of DesignStudio's recommendations. 
Sliding into the next phase of our brand
It's always important to stay close to your core, and for us, the 3D illustrations and characters were central to how people had grown to know Pitch. But in order to grow up, you need to evolve.
"One of the core questions we wanted to answer was: How we would use our 3D illustrations in a strategic and thoughtful way?" Lu Yu, our Senior Brand Designer, explains. "Why do we choose to use 3D in some objects and not others? What does it represent for us as a brand?"
Another question was how 3D illustrations would work alongside product shots and UI. For years, we'd kept the UI under wraps but now, we'd be able to build a brand that integrated these elements as well. 
That's where the slides come in.
One of the big changes we made was making slides an integral part of our brand language. Slides — apart from being the key ingredient from which all presentations are made — also served a strategic purpose in our design. They were a core, ownable object that represented the Pitch app itself. Now, the question was how, exactly, we would build them into our brand.
Every presentation starts with a single slide. But then it evolves and grows, gaining momentum with new content and collaborators.
When we discussed how we would show the story aspect of a presentation visually, we considered a few concepts. We wanted to show motion and direction, but in a way that didn't feel too limited or abstract. Presentations move work forward, but they themselves are not linear. They're dynamic and flow the same way ideas do.
We continued to experiment with colors and textures until we created a representation of the slides we felt resonated with us, one that was inclusive and friendly, while also being clean and elegant.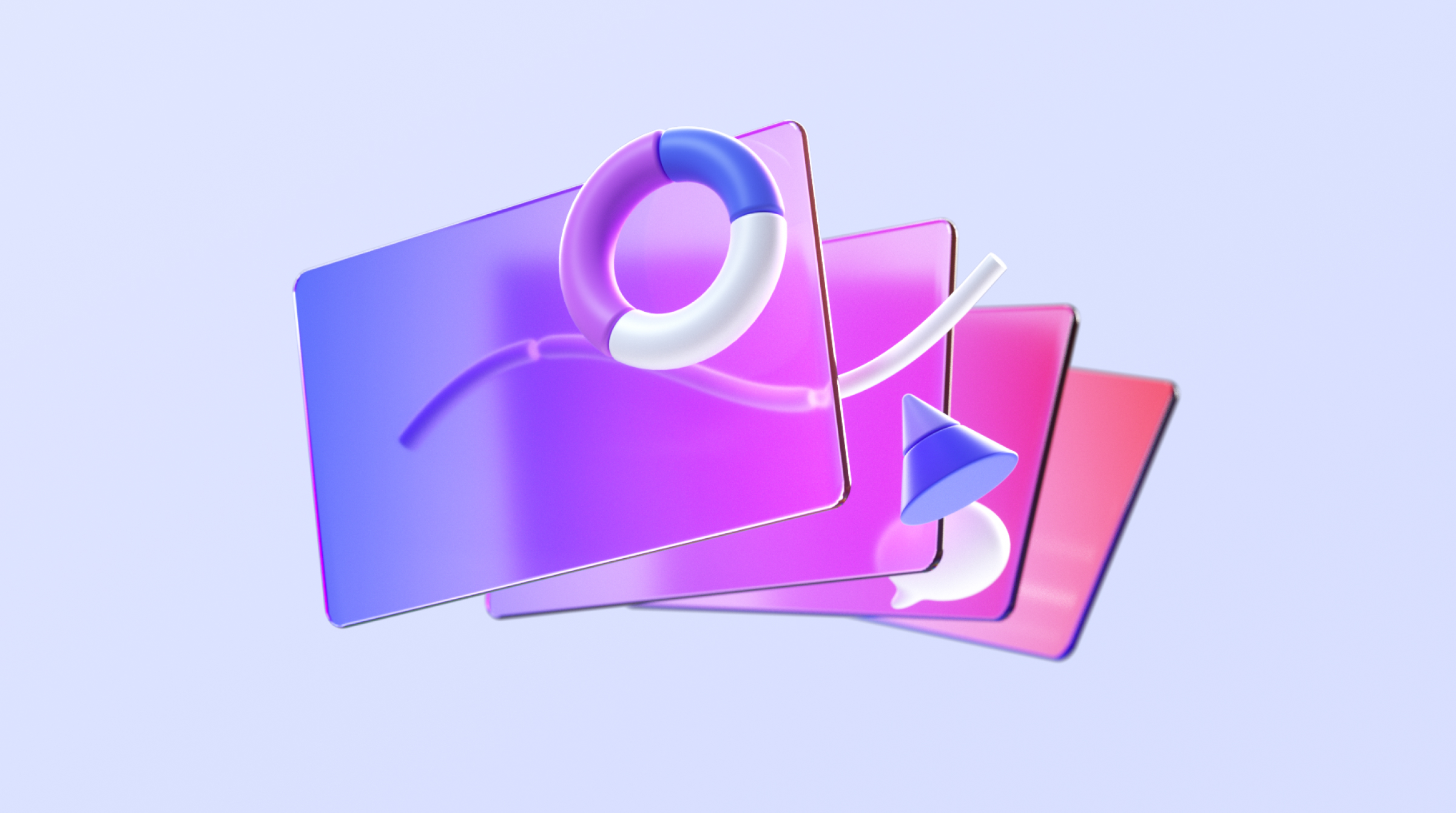 Character development 101: Evolving our illustration style
Everyone got the concept of slides being the metaphor, the main discussions were around how the slides should actually behave and blend with the other brand assets. As we continued to refine the slide concept, we still felt we hadn't totally nailed how they would interact with the characters themselves. We wanted their interactions to be clear but not overwhelming.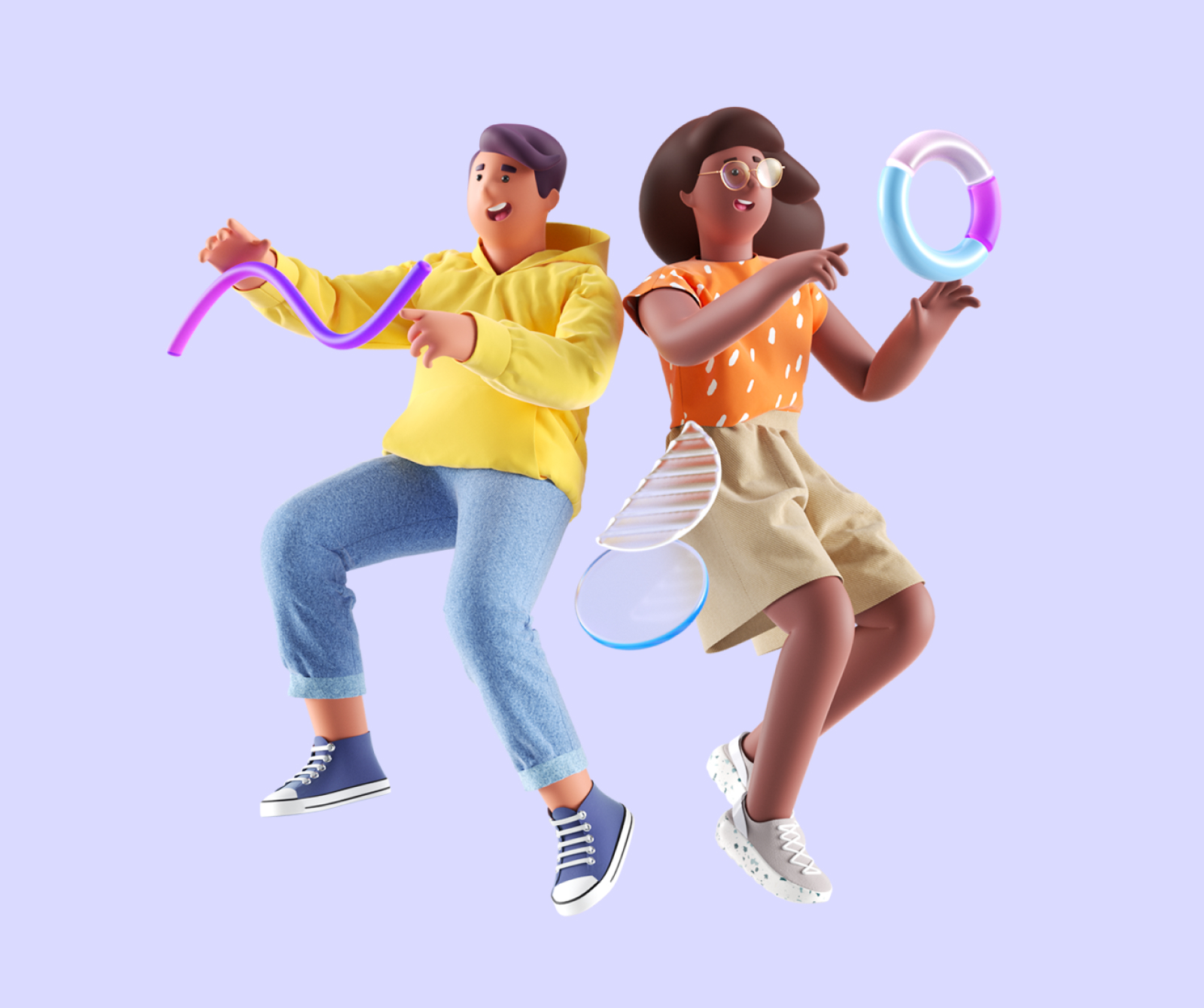 "Pitch's illustration style is colorful and friendly, but not in a childish way. It's definitely playful, yet also very refined," Lu explains.
We needed to bridge the gap between the playfulness of the characters and the more sleek feel of the new concepts, so we tried to achieve something that could work together, experimenting with different ways to show how they could potentially interact with slides.
Viva la chubby hands! 
At the end of the day, we had to remind ourselves not to go too far from what people knew and loved about us. We wanted to stay close to the feedback we'd gotten from users and our community about what aspects of Pitch they found delightful.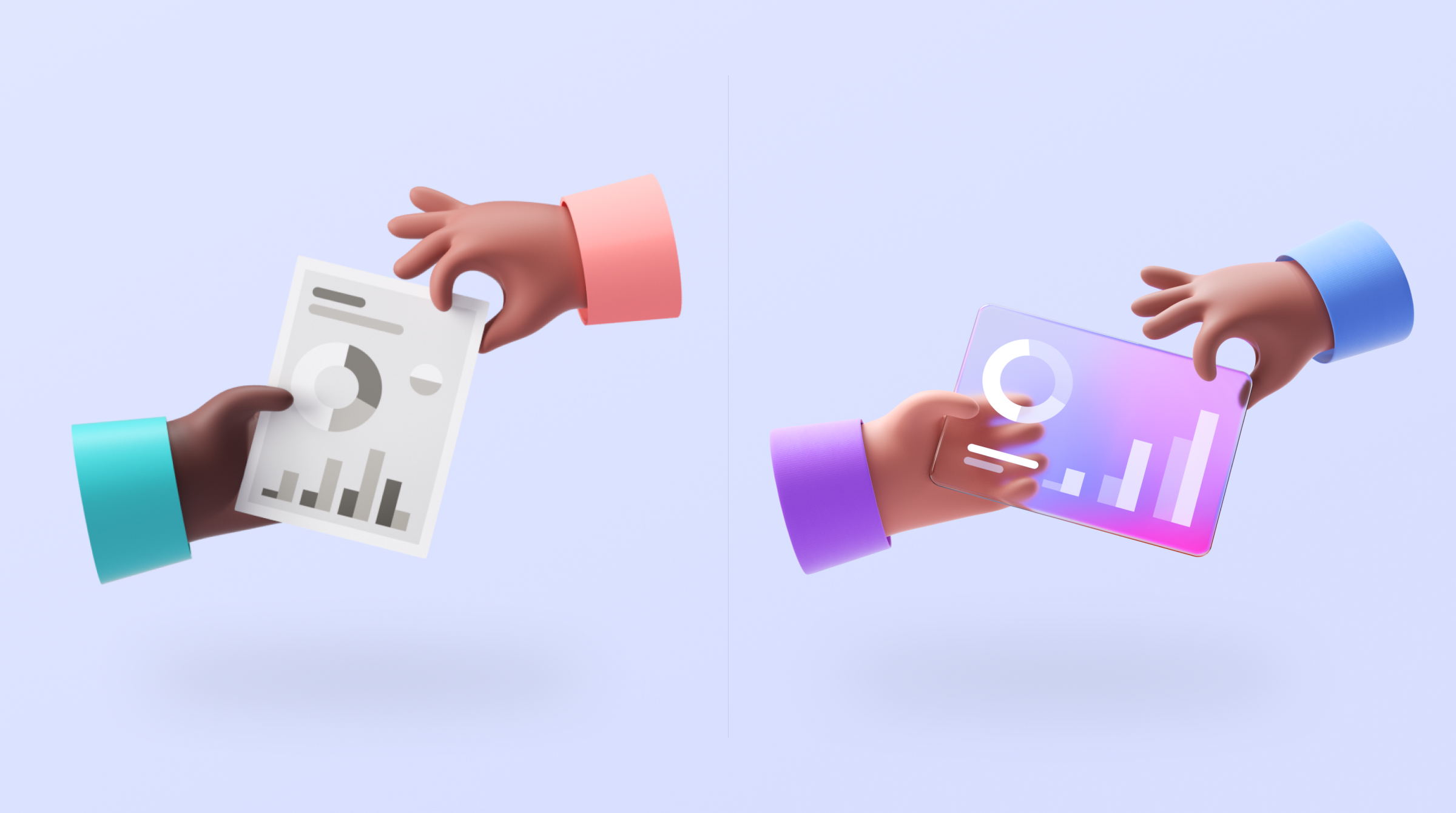 Not only do we have a more mature visual style now, but we have also thoughtfully considered how our brand should be represented in everything from animations and sound to copywriting and messaging.
"From engaging visuals for social media to playful educational content, motion brings our brand to life. By seamlessly combining 3D and and 2D animations, we created a motion language that's unique as well as scalable to multiple form factors," Tom Bogner, our Product & Motion Designer explains. "Much like our illustrations, the animation curves follow simple but meticulously crafted geometric paths. With snappy easing curves combined with modern percussive sound design makes sure every animation we put out reflects our brand: Playful and elegant at the same time."
Conclusion
Pitch is building uncompromisingly good presentation software. As a company, we want to raise the bar for what people expect, both from their presentation tools as well as from the brands they love. When we look at the ecosystem around us, we're constantly impressed and humbled by the amazing products that are being built. Whenever a team at a company we admire starts raving about Pitch, we know we're on the right path.