How Yoko Spirig from Ledgy builds a pitch deck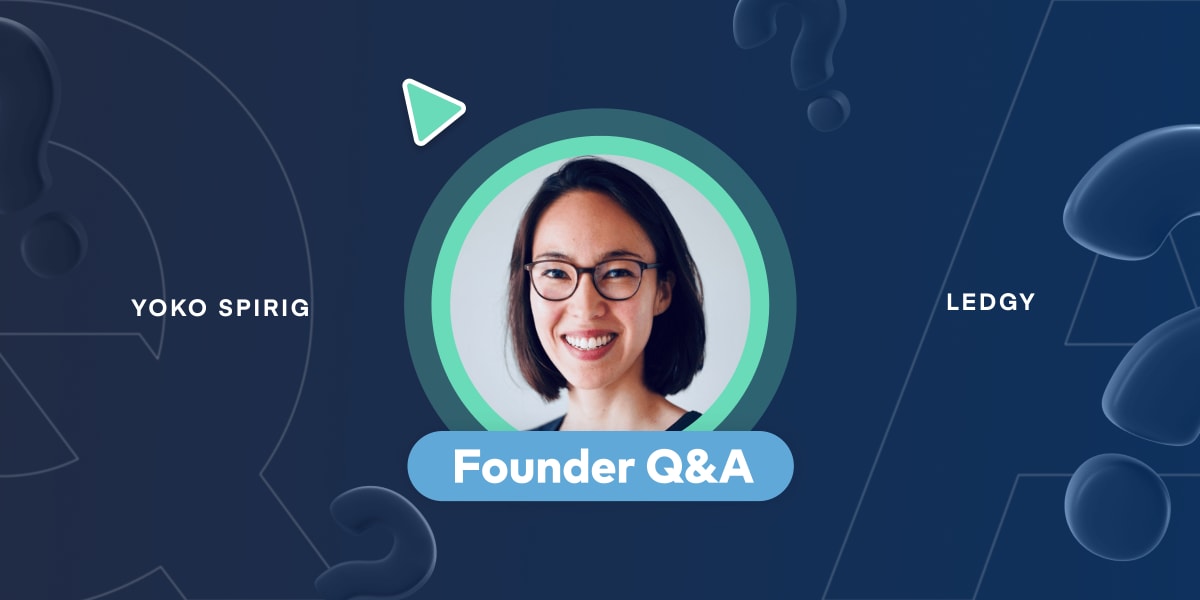 Led by CEO Yoko Spirig and co-founders Ben-Elias Brandt and Timo Horstschaefer, Ledgy is an equity management and investor relations platform for startups and high-growth companies. Having met as university students at ETH Zurich, Yoko, Ben-Elias and Timo started Ledgy to help scaling companies make ownership simple, from the boardroom to the shopfloor.
In September 2021, they recently raised $10m during their Series A round, led by Sequoia Capital. Ledgy currently serves over 3,000 customers worldwide, including companies like Frontify, Peak, and Isar Aerospace.
In this Q&A, Yoko shares her favorite fundraising resources, her process for building a successful pitch deck, and tips for who to involve before pitching.  
How would you recommend other founders prepare before they start building their pitch decks? 
Yoko: Look into resources that already exist! There are well-known fundraising guides, such as the Y Combinator Series A guide, that provide an extraordinary amount of value, and there are also valuable seed and growth-stage funding guides for founders. 
It's important to understand which investors focus on your sector and your company stage. If you're raising seed funding for an e-commerce business, a growth-stage investor specializing in cybersecurity is unlikely to be a relevant prospect for you, great deck or not. It's important to align your pitch with each investor and their investment thesis. 
How did you craft your deck to appeal to investors?
Yoko: We were very clear about starting with our mission up front, articulating exactly why my co-founders and I founded a company together in the first place. We genuinely believe that entrepreneurs will be central to solving the world's problems, and we want to help teams to create positive change in the world. (Incidentally, this is why sustainability is so important to us at Ledgy.)
Starting with the 'why' lets you build the business case for the product, and create a logical narrative that investors can follow. In our case, it's the fact that the European tech ecosystem is developing at a rapid pace, but there's still no standard way to handle equity and share ownership. 
What advice do you have for other founders when building a pitch deck, and who did you involve? 
Yoko: First, look at what other founders have said about the process. There are personal and useful posts from great founders like Mathilde Collin, the CEO of Front and one of our angel investors. Mathilde's Medium article and Series A deck both helped immensely when I was fundraising for Ledgy's Series A round. 
My co-founders were closely involved when I was building our pitch deck. To ensure we had up-to-date information on customer acquisition, product development and other details, I relied on our heads of business development and engineering. Building a great deck is always a team effort!
Finally, ask your existing investors and/or advisors to battle-test your pitch and really "rip you apart" to ensure you're prepared for the hardest questions. Confidence is key for fundraising, and getting tested early on means you're better prepared to face tough questions!
---
Ledgy's Series A pitch deck and Front's Series C pitch deck can be found in Pitch's Female-Founded Startups collection.
This is the second in our Founder Q&A series, and we have more to come. Check out our series of Q&As here. Keep an eye out for future interviews with successful founders — and in the meantime, start building your own deck with one of Pitch's free templates. Our presentation software makes it easy to quickly and effectively pitch your idea to secure investment and grow your business.