Introducing the Pitch presentation gallery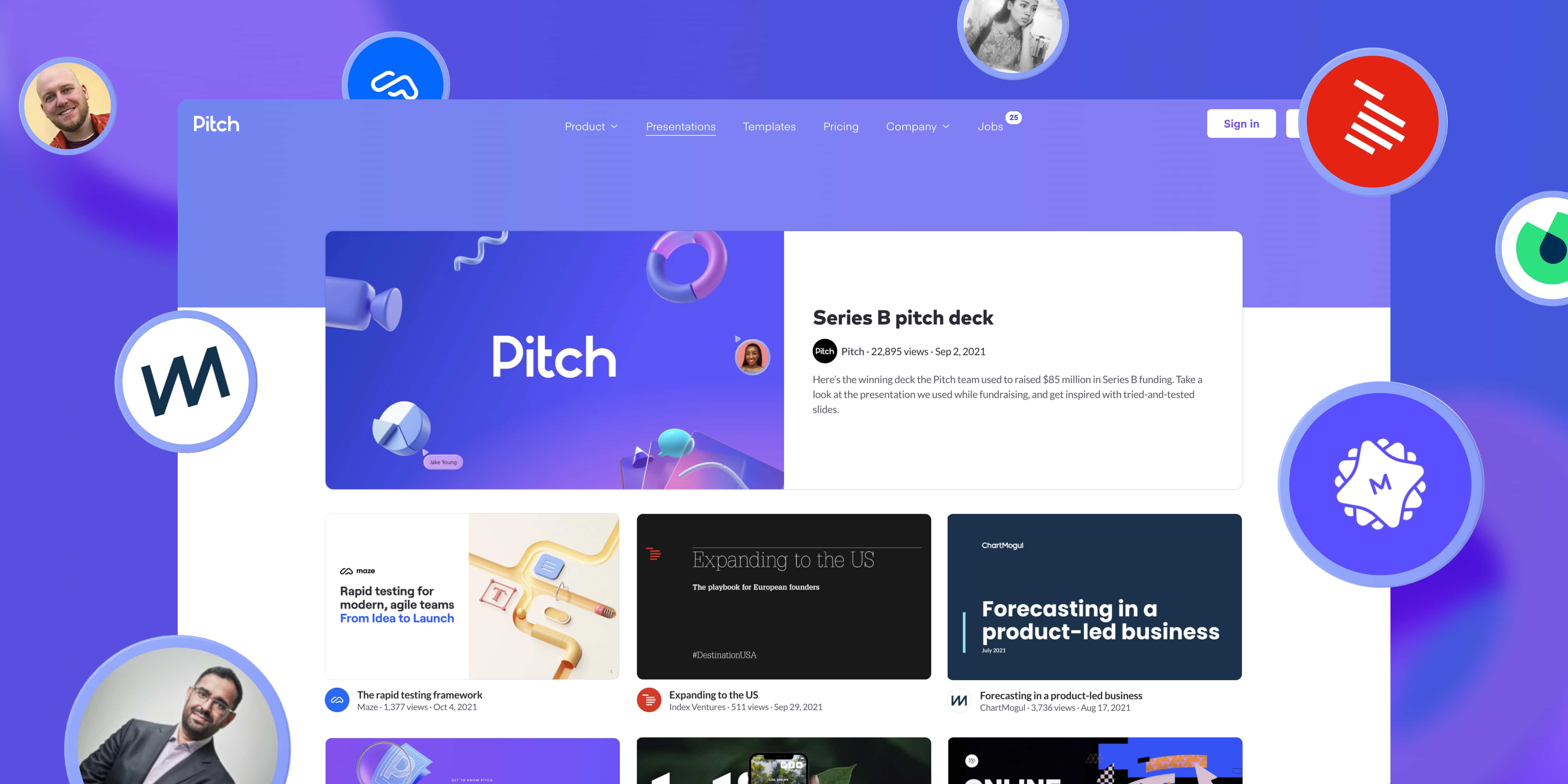 Connecting anyone looking for inspiration with the best content from top creators and brands is a core pillar of our product vision for Pitch. This summer, we debuted the first creator profiles, and today, we're taking another big step toward bringing our vision to life: We're rolling out the Pitch presentation gallery, and launching publishing as a beta program for creators. 
It's been a full year since we launched, and thousands of teams now use Pitch to create, collaborate on, and deliver presentations. Now, we're giving our community a new way to publish standout work, grow an online presence, and learn from one another: the Pitch presentation gallery. 
To mark the launch of the gallery, we've curated a selection of world-class content on all aspects of work: fundraising, hiring, marketing, design, and more. We're also opening a new beta program for creators to publish their own presentations on public profiles.
Introducing a new home for presentations
Presentations are the best way to communicate complex ideas in simple, digestible terms. But they've never had a dedicated home. As a result, too many brilliant startup proposals, product concepts, and leadership strategies have gone undiscovered. Previous presentation galleries have all been too static, too cold, and haven't done justice to creators and brands. We think it's time to change that.
Pitch will be a new kind of destination for presentations. Because we're building a complete platform that connects presentation creation and publication, our users can bring their best thinking to life and share it with the world — all on Pitch.
In the future, if you're a Pitch user, you'll be able to establish an online presence with your own creator profile, and discover other profiles with success stories, helpful tips, and inspiring ideas from like-minded individuals and brands. And we'll showcase the very best presentations as featured content in our presentation gallery to help everyone in our community find the creative spark for their next presentation.
Become one of the first Pitch creators 
We'll soon be rolling out the capability to publish presentations directly to public creator profiles. A select group of Pitch users will be the first to gain access to this new feature over the next few weeks. We're looking for winning pitch decks, company overviews, case studies, keynote speeches, and more.
As a beta participant, you will:
Get dedicated support in setting up your creator profile on Pitch
Be the first to try our new self-publishing flow that connects our editor directly with your creator profile
Collaborate with us as we develop new presentation gallery features, like bookmarking and reactions
Check out the first published presentations
Members of the Pitch community are already sharing their best work on Pitch. Here's a look at some of the top companies, brands, and creatives who have already started publishing:
Klima
Klima is on a mission to make it easy for anyone to contribute to fighting climate change. They shared the pitch deck they used to raise $5.8M in seed funding to provide CO2 offsetting services.
"We use Pitch every day to share ideas, insights, and successes within our team,"  says Jonas Brandau, Klima's Chief Product Officer and co-founder. "We knew the Pitch gallery would be the perfect place to tell our story, and hopefully inspire others to take climate action along the way."
Index Ventures
As a top venture capital firm with a global presence, Index Ventures play an active role in helping European startups expand to the US.
They've contributed a comprehensive guide to the subject that showcases their impressive domain expertise.
Maze
The team behind user testing platform Maze are on a mission to empower product and marketing teams to test anything. They've shared their definitive rapid testing framework for creating experiences that delight and bring value to users.
"My role as a CEO is to sell a story and a vision," Maze CEO and co-founder, Jonathan Widawski says. "The presentation format allows me to declutter a complex vision and make it easy to digest and consume, both in person and asynchronously."
Marisa Chentakul
Publishing also offers individual creators a platform to showcase their skills and build personal brands. Product designer Marisa Chentakul used Pitch to tell the story of her transition from fashion design to product design.
What's next?
Over the coming months, we'll be extending publishing capabilities to more Pitch users. Eventually, everyone will be able to publish presentations to their own creator profile. 
We can't wait to see our community bring this ecosystem to life.
Update: Note that we're no longer accepting applicants to the publishing beta. Keep an eye on What's New for further news on presentation publishing.