How a savvy sales team primes itself for success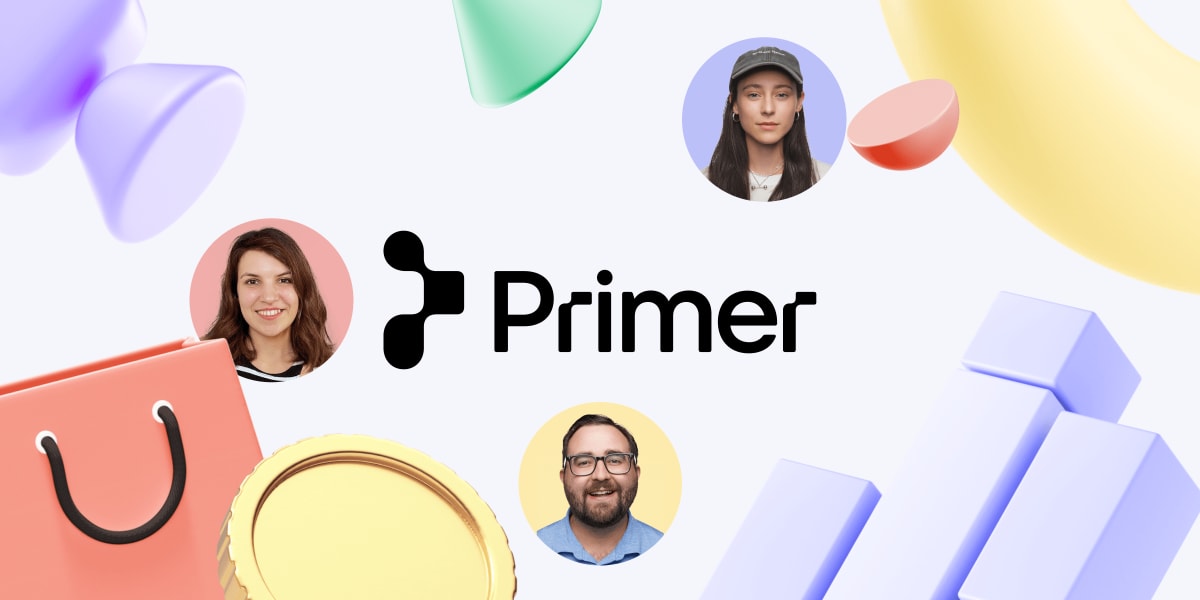 With Primer, less is more. The payments automation platform has a straightforward mission: Be the simplest way for online businesses to build beautiful buying experiences for their customers. When it came to selling their product, they needed a tool that matched their values and the way they worked. 
Primer's fully remote company operates across the globe, catering to clients from travel to retail to online gaming. Chris Jacques, Head of Sales Enablement, works alongside a team of 10 salespeople, a BDR, and solutions engineers. The team is innovative, fast, and efficient — just the way they like it. 
Those same attributes are exactly what they like about Pitch, too.
"Please duplicate" — Scaling decks made simple
For Chris and the sales team, presentations are, literally, life. They use presentations internally for roadmaps, all-hands meetings, and training materials. And, of course, they use external-facing presentations to sell their product in every phase of the cycle.
At the heart of their sales motion is a client-centric deck template that outlines the problems in the market and how Primer solves them. It serves as the basic blueprint for pretty much every sales deck at Primer, including RFPs, commercial proposals, and technical overviews. Chris built up the presentation in Pitch by drafting basic text slides, which he then annotated with comments for the design team. Once the designers had worked their magic, Chris collaborated with them in real time to make final tweaks. 
Chris was surprised by how fast it came together. He's not, in his own words, "a good slide mule." He adds, "Personally, that's something I love about Pitch. I'm not super technical, and it really makes me feel like I know what I'm doing."
He wanted to empower his team to feel the same. At his previous company, people would get bogged down by the Sisyphean process of building a customized presentation in PowerPoint: "Every slide would have a huge, ugly note about how to use and customize it. Getting a single slide ready for the presentation was like reading a novel. Sometimes people were going through 150, 170 slides just to find the 30 they needed for their presentation."  
The core template Chris created lives online and is constantly evolving to include additions and improvements; it currently consists of around 50 slides. When a salesperson needs to hop on a call with a new prospect, they just duplicate the template — as the first slide instructs — and choose the slides they need to customize their story. 
"The sales deck template makes it easier for my team to do their job," says Chris. "I mean, click duplicate, think about what you're trying to go through with your merchant, delete the slides you don't need — and boom, you're ready for a presentation in an hour. At my old company, that would take people literally a week to do. With Pitch, you instantly seem super professional and put together. And off to the races you go."
Sealing the deal, from demo deck to detailed follow-up
During a call, sales reps typically talk through the deck they've just pulled together from their approved sales template, and demo the product. But that's just the start. 
"Our sale is inherently multistakeholder," says Chris. "You'll go into a meeting with 4 people, but then there are 20 other people that need something extra to understand the Primer solution. So we're always being asked, 'Can you send over something I can share internally?'" 
To accommodate these stakeholders, Chris's team can easily iterate on their core deck to create more text-heavy, technical leave-behinds. Often, they're paired with video recordings, which make them more attractive than a typical one-pager.
All the different decks are cataloged into private folders in Pitch, where team members can collaborate in smaller, invite-only groups. These folders are then broken down by team, stage, region, and type. For instance, there's "BD - Qualification," "BD - EMEA," and "BD - Weekly meeting." That way, it's easy to pull up the decks for future reference. "If we've had a similar client or case before," notes Chris, "We can say, 'Hey go check out this presentation.'"
Little recordings, big returns
As an enablement person, Chris is very conscious of the way people absorb information, which is why he's a big fan of Pitch's native video recordings: "It's really easy to integrate recordings into a Pitch deck, and that's very powerful. In today's TikTok world, having engaging video content on slides is nonnegotiable. Visual, quick hits are how people learn nowadays."
His typical training process is to create a slide on a specific topic, record a video around that topic, and then check that people have understood it. When he built the core sales deck, for instance, he used recordings to educate his team on why each slide matters, how to present the slides live, and how to customize a deck. 
Whenever a new product launches, he adds to his mini how-to series, cracking a joke before launching into a tried-and-true spiel: Here's something new, and here's what you need to be successful. Here's a slide. Here's a talking point. Here's what merchants might ask, and here's how to resolve it. Here's a stat of market relevance. Here's the documentation. "Some of my slides will just be a visual and my little face in the corner," he says. "I'll talk about it for 90 seconds, then move to the next topic."
Creating recordings can be super fast — a fact the sales team leveraged for their Observability launch. The PM behind the new feature was able to quickly record an async product demo for their landing page to warm up leads before a call. "The result," says Chris, "is epic."
Turning ready-made templates into a brand identity
In Primer's early days, Monika Ocieczek, Head of Product Design, "was making all of the team's slides using a mashup of Keynote and Figma." This was before they had a fully fledged brand identity, and way before Chris built up the core sales deck template. But obviously, she says, "Keynote only works on Macs." For a growing, fully remote team with varying tech setups, that was an issue.
Instead, she introduced the team to a new tool she'd recently discovered.
Enter Pitch.
Primer's sales team started using Pitch as a design hack to get the unified brand look they wanted — fast. Their secret? Presentation templates. Salespeople with zero design experience could pick custom sales templates with similar colors to Primer, and quickly build decks that looked professional and on brand. 
Then once Chris and the design team came on board, they were able to double down on enablement. "The very first deck I ever redesigned," remembers Yıldız Alidzhikova, a graphic designer at Primer, "already looked pretty good because the sales team had used a Pitch presentation template." 
"Google Slides also has templates," says Yıldız, "but the ones in Pitch are way cooler. They're better design-wise, are more thoughtfully curated, and are honestly just more inspiring. When you're in the UI, everything looks and feels nice, and you have features like stickers that are fun to work with. It's obvious that Pitch has put a lot of effort into enabling anyone to make really impressive presentations." 
Scaling sales teams want to focus on revenue growth, not processes — which is why Pitch is such a boon to Chris, and why it has found its way into other commercial teams' workflows. "Before I started at Primer a year ago," he says, "I'd never seen Pitch out in the wild. Now I see it everywhere: on Twitter, in articles I'm reading, when I receive a deck from another company. I'm like, 'Oh, I recognize you. You're Pitch.'"