Presentation templates for modern teams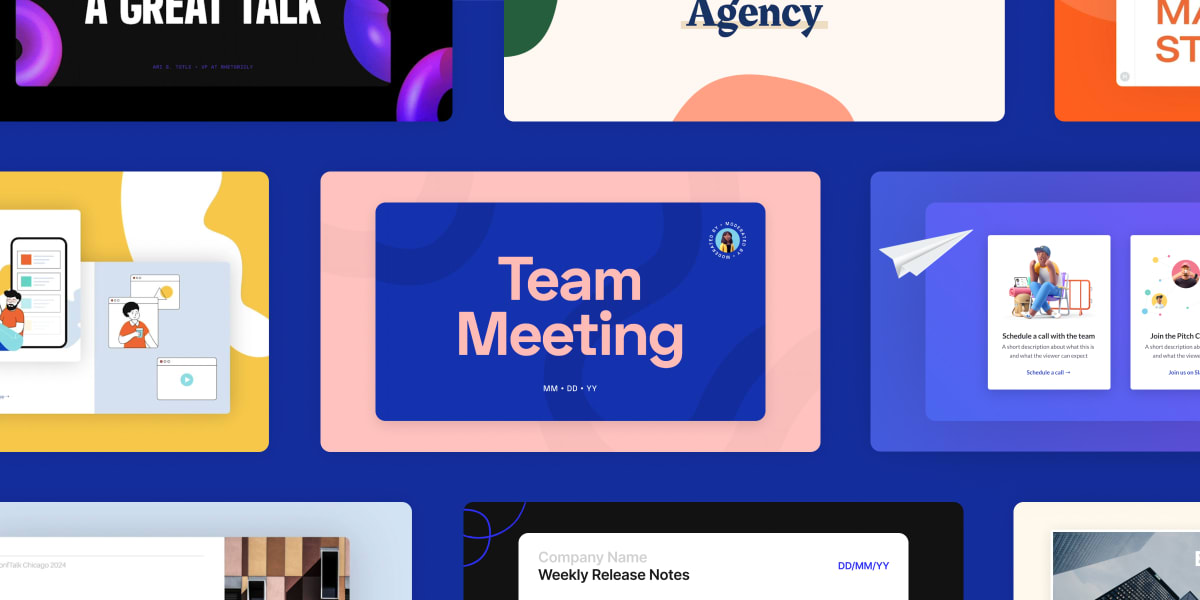 When people think of presentations, things like pitch decks and conference talks are often first to spring to mind. And it makes sense. After all, behind every great board meeting (or even team meeting) you'll likely find a presentation steering the agenda and guiding the discussions. But the medium is changing. Every day, modern teams are finding new, innovative ways to use presentations to help them work faster and more collaboratively.
As you can likely guess, we spend quite a lot of time using Pitch internally. From internal knowledge sharing to group brainstorming, we use presentations for just about everything we do in our day-to-day work. And along the way, we've stumbled upon some exciting new use cases for presentation templates. In this post, we'll share some of our favorites ones that are especially relevant for modern teams who need to connect and collaborate remotely.
1. Team retrospective
After finishing any project, retrospectives are a crucial step to reflect and make improvements for next time around. Retrospectives can be tough, even when you're in the same room. When you're conducting a retrospective over Zoom, it's even more important to have everyone on the same page and to make the objective of the discussion clear. At Pitch, we found an effective way to do team retrospectives is to give each person their own slide for thinking and jotting down notes. Then, we come together to share our "sticky notes" on the proverbial whiteboard and document action items for follow up. In this way, the retrospective becomes a sort of living and interactive document, while still enabling effective communication and clear takeaways.
2. Virtual offsite
Our design team created such a cool presentation for their virtual offsite, we wanted to make it a template for everyone to use. This template is a remote-friendly way to bond with teammates and get to know one another better. Since it was introduced, teams across the company, like engineering and marketing, have used it as a starting point for their own offsite. It offers just the right level of structure and flexibility to get your creativity going, and the perfect balance of fun and functionality to make any bonding session a great one.
3. Team bulletin
At Pitch, we're big fans of bulletins. So much so that we wrote an entire post detailing how we use them internally. We love that we can use them to keep everyone updated on what's going on around the company and to communicate important updates in a remote-friendly way. For us, they're like an async all-hands meeting. With this template, you can easily start creating bulletins to share information across your team or company.
4. Job listing
Hiring is tough, but one thing that makes it better is when you have a highly shareable job posting that your network is excited to help circulate to potential hires. Presentations are a format that's more engaging and personalized than a classic landing page. They're also much more robust than a traditional job posting and give you room to be creative with content. With this template, you can easily add media like photos and videos of your latest company outing, or give it some personality with GIFs.
5. Release notes
Each week, we create a presentation version of our release notes, so we can clearly and concisely share the latest changes in our product (you can check out our most recent release notes here). They're not only a great way to keep users informed, but also to retain frustrated users who might otherwise be in the dark about bug fixes or new features that they've been waiting for. Product release notes help us let users know that their feedback was not only heard, but that it was used to make meaningful changes.