How Codat's design director stopped sweating slides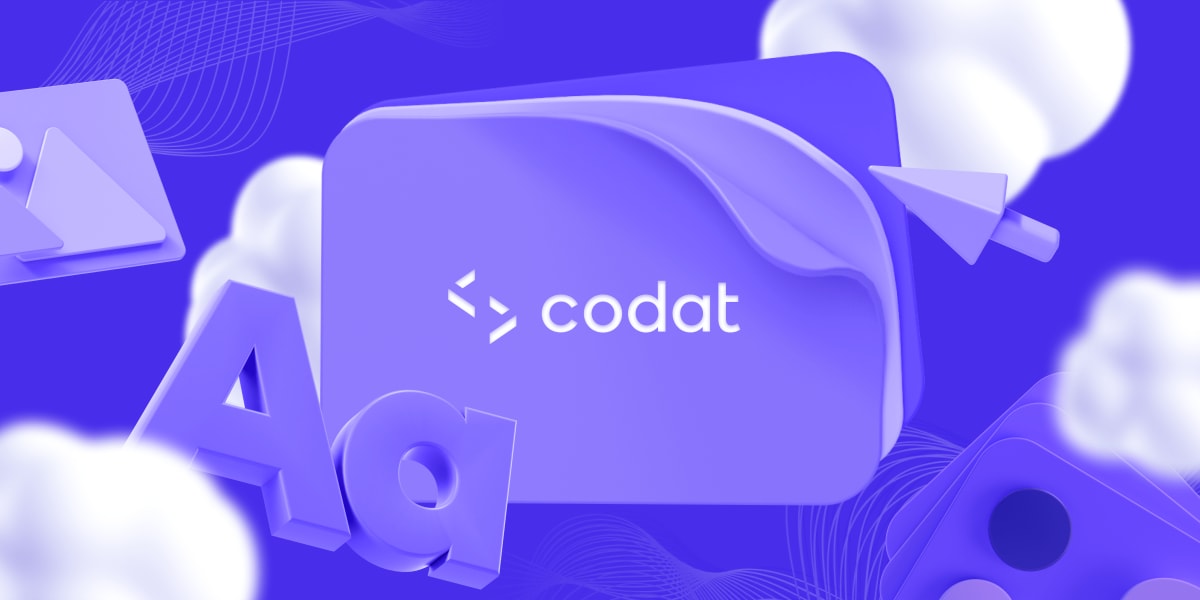 When Matt Stevenson joined Codat, he was tasked with designing the product: an API that makes it easy for financial institutions to safely access customers' business data. Little did he know he was also going to be in charge of the company's entire visual identity. 
At the time, Codat's sales and solutions teams were using PowerPoint to put together a steady stream of presentations for key clients and prospects. "We're basically a Microsoft sort of company in terms of infrastructure," says Matt. "So, naturally, we adopted the Office suite." 
But the decks were a mess. They passed back and forth between stakeholders who needed to weigh in. Every time someone updated a fact or figure, fonts were changed and text placements shifted. Version control was, well, out of control: _v1 became _final_v1 became final_final_final_v1. 
Confusion abounded. Time was wasted. The nightmare was real.
Keeping the decks visually consistent and up to date was obviously important — but it was also painstaking, tedious work. Matt's question was simple: How do I empower other people to do what I do, so I can free up time to focus on stuff that's more important (and fun)? In short, how do I turn nondesigners into slide designers? 
A presentation power-up
When Matt stumbled across Pitch, he liked what he saw. Templates? Check. Collaboration? Double-check. But then he fell in love. The sky parted, birds sang, and the sun shone on his furrowed designer's brow. His prayers had been answered: custom fonts.
"It sounds like such a tiny thing, but as 'brand guardian' — or whatever the term is — custom fonts were a big thing for me. I was like, 'Thank God. Someone's finally figured out how to do it properly.'" 
And it was all in the cloud. 
As a web-first application, Pitch would make collaborating on Codat's decks easy. It meant everyone would see the same thing in real time. It meant people could leave comments on slides for others to review async. It meant that changes would be saved automatically. And it meant no more final_final_final_v1.
Matt knew Pitch was the answer to taking Codat's complex operations and simplifying them into decks that were really pretty and easy for clients to understand — and for teams to update. Now he just needed to convince Codat's diehard PowerPoint proponents.
Making the switch to Pitch
When push came to shove, there wasn't really any shoving… or pushing. Instead, Matt let Pitch speak for itself. 
To get things moving, he focused on convincing a few key colleagues in sales and solutions. "I just got the ears of the people that I knew would benefit from Pitch. I told them, 'It kills all the bits you hate about both PowerPoint and Google Slides, and keeps your hands on brand control.' And then I let them sell it to their teams." 
Once he'd gotten them to look at — and try — Pitch, there was no going back. Any worries about having to learn how to use a new piece of software were outweighed by the perks. The teams were happy to be able to collaborate in just one, always up-to-date deck. Not having to go back and forth between versions saved them hours of work and hassle. And with custom-designed templates, they knew their materials were always sleek and on brand.
Before the team could fully switch to Pitch, there was one final person to win over: Codat's CEO. But once the sales and customer teams had used Pitch and seen the benefits firsthand, "he was going to have to pull it out of their cold, dead hands. It just looked so much better and was quicker and far easier to use."
One and done templates
Codat's use cases are many and varied, so creating a set of rules that allowed team members to tailor slides to their needs was crucial. Putting together the design blueprint itself was a breeze, though. 
"One day," Matt remembers, "I just built out a template very quickly. It literally took me about four or five hours max to create 18 different basic slides. And I said, 'There you go, have at it,' held a little workshop for Pitch, and off we went." 
The template includes multiple versions of purpose-built slides. If someone on the sales team needs to talk about a customer, for instance, they might want to emphasize images or words to varying degrees — so there are three different customer story slide templates. And then there are also "bits that are unique to selling our business, like slides on networking, data, and infrastructure," which teams keep updated with the latest assets.
Designing decks for success
Codat isn't a design company, but design has become a core part of its offering — and its success. Back when Matt joined, the company had around 40 people on the team. Today, with about 250 employees, keeping the brand consistent across teams and channels, both internally and externally, is more important than ever.
Gabriel MacSweeney, Codat's Head of Brand and Communications, says "It's great to have something where you can essentially enable people who aren't designers to be designers. With minimal effort, our design team can help others do their jobs really well."
To leverage the power of Pitch, check out our template gallery and start building your own customized slides. Your team (and future self) will thank you.