Shining a spotlight on our beta users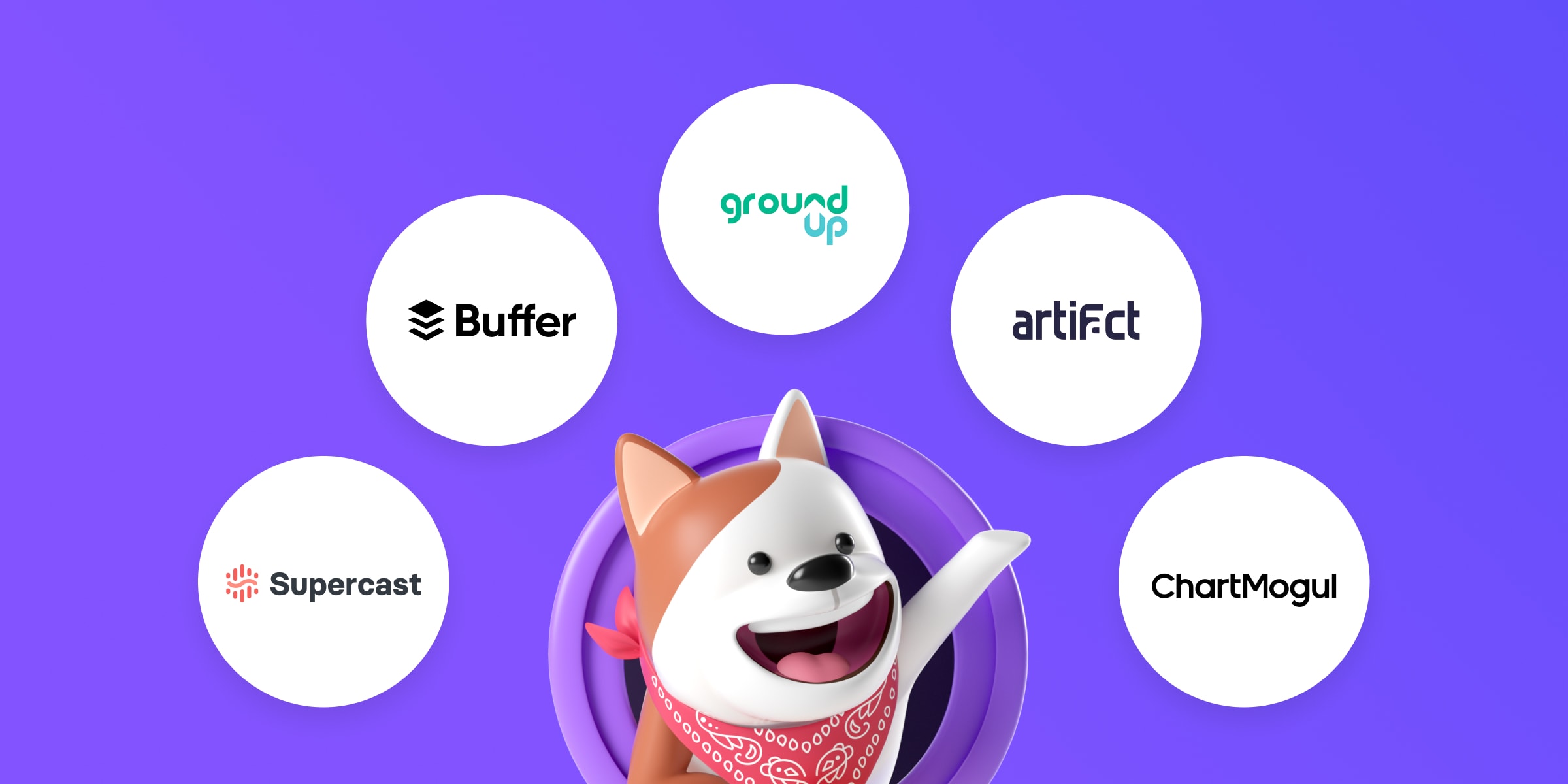 We've been hard at work onboarding our very first users. Today, I want to showcase some of our top teams and share how they're using Pitch to raise money, work faster, and communicate more effectively.
A few weeks ago, we offered a first look at Pitch and shared our plans for 2020. But we didn't dig into one of the most important topics: our users. Currently, we have more than 200 teams working to pitch their business, stay in sync, and more. Here's how teams like yours are creating and sharing presentations with Pitch. Plus, we're introducing a new way to make sure great potential teams get early access.
Supercast created their Pitch-perfect pitch deck
Supercast is a new platform that helps podcasters leverage their relationship with fans to monetize via audience-support. The product was born from the work of DoubleUp, a marketing agency that helps startups and content creators build sustainable digital businesses. As the podcasting industry exploded, clients started approaching them to move beyond advertising revenue and explore other monetization models. DoubleUp spotted the opportunity, and Supercast was born.

When co-founder Aidan Hornsby started building a pitch deck for potential investors, Pitch was a natural fit. He was able to get started from our library of templates and quickly put together a winning pitch deck with help from Andrew Wilkinson and the team at Tiny.
"We needed to be able to go from zero to a version one of our deck. With Pitch, we were able to quickly get a rough idea of the 10 slides we needed. Then, Andrew and I started throwing the link back and forth and sharing ideas in real time." Within one day, they had the first version of their pitch deck, complete with content, typefaces, and colors.
To go from first version to final version, the team used Pitch's collaboration and workflow features to collect feedback, refine content, and track progress through slide statuses.
"One thing I found particularly valuable in Pitch is the ability to clearly mark things as to-do's and move away from having a dozen slides, each littered with messy comments. Having a quick color reference to see, 'Okay, slides 1, 2 and 4 are locked down but 3, 7, 10, and 11 still need work,' helped me navigate the slide deck at different levels while staying focused on what was important." Aidan could go from sweating the details — we need a statistic on this slide — to reviewing the whole deck — does the story we're trying to tell make sense?
So how'd the pitch go? At the end of February, Supercast announced a $2M seed round and was able to hire a CEO to bring the platform to market.
Ground Up Ventures saves time crafting industry reports
Ground Up Ventures is an early-stage venture capital firm that invests in pre-seed and seed-stage startups in the United States and Israel. In 2018, they published their first State of Seed Investing report, which surveys local investors on the outlook for startups in Israel.
Jordan Odinsky, Investor and Head of Platform at Ground Up, led the charge in building the report. In order to get to a finished product, he had to hop between tools like PowerPoint, Canva, and Google Slides (to name a few!).
When Jordan got his hands on Pitch, he knew he wanted to use it for the 2019 report. "With Pitch, my job was seamless. There was no more formatting, re-formatting, and triple-checking fonts, colors, or positioning. With Pitch, you can choose a stunning template and customize your presentation in a few clicks."
Having access to Pitch and its library of templates has come in handy outside of generating this annual report. Now, Jordan and the team can create presentations for the Ground Up portfolio, investors, and the wider startup ecosystem.
ChartMogul keeps their remote team in sync
ChartMogul helps companies understand and grow their subscription business. In early 2019, the team went fully remote. Ingmar Zahorsky, their VP of Customer Success, was prepared for the shift, as he was already managing a global team of success managers across North America, Europe, and Asia Pacific.
The team relies on tools like Slack and Notion for asynchronous updates, but once a month, make it a point to get on a call and go through their success metrics. During this time, they can review and set goals, share knowledge, have open discussions, and make sure they get to connect as people, as well as teammates.
Each team member is responsible for providing an update. When they were using Keynote, that meant having to send files back and forth before assembling the final deck. Now, the team can start working from their template in Pitch, and collaborate and provide updates in one place.
At our first community event, Ingmar shared how Pitch helps everyone keep a pulse on what's happening at work. "Since ChartMogul is fully remote, it helps to have things in one place to avoid information silos. Pitch makes the information transparent and available to everyone. This is an opportunity to take anything presentation related and centralize it in one place."
Artifact created a conference pitch worthy of a standing ovation
Artifact helps companies warehouse and instantly analyze qualitative data from every stage of the customer journey. In January, CEO Nate Sanders took the stage at Silicon Slopes to pitch his business to more than 25,000 attendees.
Before Pitch, Nate had tried just about everything to make the process of creating presentations easier. But he found that every tool came with unnecessary complexity, hindering his workflow. "My whole career I've spent too much of my life working in presentations."
Since joining our beta, the Artifact team has gone all-in on Pitch, even moving items like job offers out of document software and into a presentation. With Pitch, they've been able to improve productivity without limiting their creativity when it comes to storytelling.
His favorite feature? Well, according to him: "It's kind of a hard question. You've taken all these normal-day features that all these other presentation tools have and made them better and easier to use. It's just better to use than other software."
Buffer pitches new ideas to the leadership team
Buffer offers a suite of social media products and is widely known for being a fully remote and truly transparent company. Engineering Manager Marcus Wermuth has been a long-time remote work advocate. He started using Pitch because he was looking for a more collaborative presentation tool that placed a premium on efficient design workflows.
Recently, he had the opportunity to speak in front of all people leaders at Buffer and used Pitch to present on the topic of first team focus, where leaders prioritize supporting their fellow leaders before supporting direct reports.
For Marcus, ease of use is key. "I like the simplicity of Pitch, and how easy and quick it is to put together a great-looking presentation." It also doesn't hurt that he can easily add GIFs from Giphy or stickers of our favorite office pup to liven up his less serious slides.

In addition to using Pitch at Buffer, he also relies on it to help deliver content for presentations and workshops. (In fact, he delivered a two-hour talk to our team back in February to discuss remote work leadership!)
These are just a few of the ways teams are using Pitch today. We're so excited to see more of you switch to Pitch and hear about what you build!
Great people know great people: Introducing our referral program
Up until now, our criteria for selecting beta users has been straightforward: Are you working with a team? How are you creating presentations today? What type of presentations are you creating? How many people do you work on presentations with?

But early on we started receiving ad hoc referrals from some of our more active beta users. Based on current criteria, some of these referrals wouldn't have been considered a fit. But you know what? Most of these referrals paid off — these users were highly engaged and communicative.
It should have been obvious: Of course our current users would have a great read on who would benefit from using Pitch, and who we could learn from.
Today, we're making this process official: Every current Pitch user can refer two companies for early access. We've already sent them the details. If you're eager to move up the waitlist (and think you'd make a great beta user!), now's a great time to get in touch with a current Pitch user and let them know.
For those of you who have been patiently waiting for your turn to try Pitch: Don't worry. We're scaling up the number of invites we send each week and are still sourcing teams from our waitlist. Your moment is coming up soon!