Crafting a standout pitch with Naïma Camara of Ownership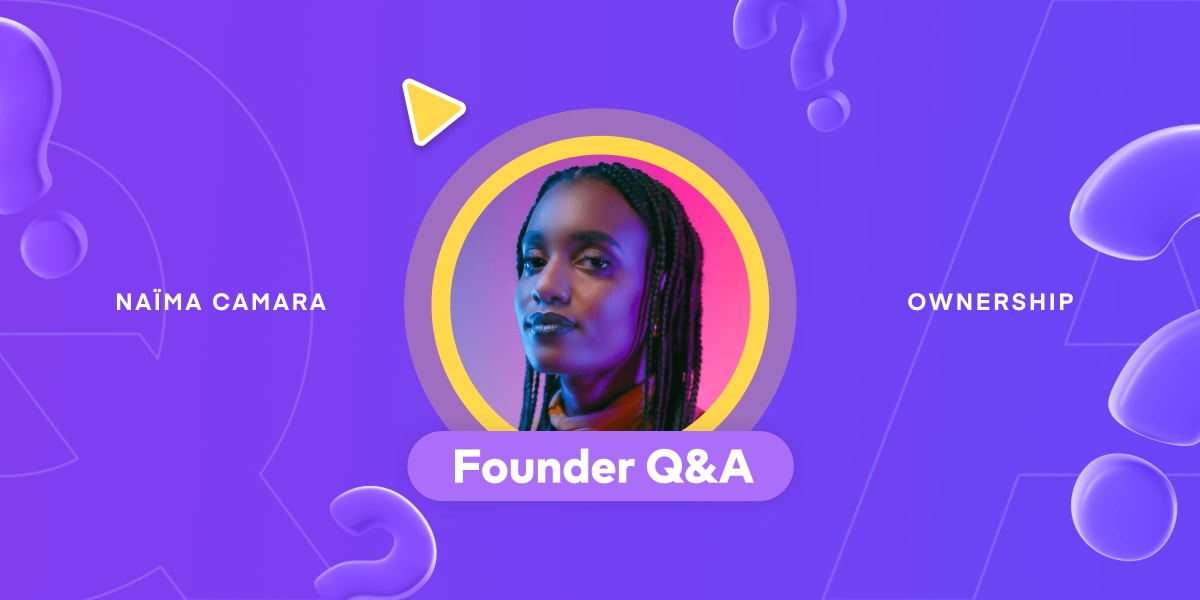 Ownership, which was co-founded by Naïma Camara and Dominic Vinyard, is a platform for next-generation company formation. Using an algorithm to create a fair valuation and cap table in real-time, their app allows founders to fairly distribute equity based on team and investor contributions. Ownership has been featured in the Financial Times, Business Insider, and Sifted and was one of twelve companies selected for the UK Black Tech Founders Mission in New York.
In this Q&A, we talk about Ownership, Naïma's journey to her first startup, her fundraising experience, and tips for other founders on how to craft a successful pitch. 
Let's start with your role and your elevator pitch for Ownership. 
Naïma: I'm the Co-founder and CEO of Ownership, an app that gamifies equity distribution for early-stage teams. It allows founders to complete milestones and log their hours. Our app calculates a split that's fair for companies and employees. 
There are currently 300 million founders around the world working on 150 million businesses. Our goal is to help early-stage founders organize an essential part of building a startup: Handling equity. 
What's your founder story? 
Naïma: As a founder, one of the most important decisions you'll ever make is who you choose to found your company with. I met my co-founder Dom when we were working at an innovation center that helped startups scale. We came together at the start of the pandemic to create a solution that was very different to what Ownership is today. 
We got to where we are now by slowly iterating and learning more about the problem. The biggest lesson for me was that starting is the most important step. Once you take that step, you gain momentum and your progress slowly accumulates into something worthwhile. 
We launched Ownership in Q3 of 2021. And surprisingly, most of our learning happened after we launched. Our focus over the last six months has been building the foundation to scale beyond the app. 
Why did you decide on an app? 
Naïma: We knew early-stage founders were underserved — and when we interviewed founders, the issue of equity came up again and again. We quickly learned that equity was the main way of getting people to work on your idea when you don't have cash. But existing equity solutions target later stage businesses who have already raised investment and been able to hire employees. 
Any key milestones and tips on how you achieved them?
Naïma: So far, our app has several hundred users, and our month-on-month growth rate is 25%. 
My biggest tip is to find organizations you can learn from and that can help elevate you — people who believe in your mission and enable you to flourish. We've also got a great support system of other founders who are either a few steps ahead or at the same stage as us. Everyone is happy to share their perspectives and offer help. Having a co-founder you trust also goes a long way.
You come from a policy research background and have covered fast-moving industries like the startup world, VR, and Blockchain. What made you decide to take the leap and become a founder? 
When I was researching and interviewing startups, I always came away inspired — especially in the emerging tech space because a lot of it is still speculative. The founders I spoke to were imagining a brand-new world that didn't exist yet. Speaking to them made me realize it was a leap I eventually wanted to make myself. Most didn't have all the answers but were trying anyway, which made the founder journey seem more accessible. 
What are some of the challenges you've faced going from a salaried job to being your own boss?
Naïma: I had a steep learning curve when it came to creating our own company structure and processes. As founders, we have to work out the top priorities for our business, and that's really difficult to do pre-product or pre-team. You're constantly making decisions with a blank slate. 
It's also tough to completely switch off. I struggle with that in general, but it's even more difficult as a founder because there's always more to do. 
And I'm learning how to hire the right people. Every new hire will have a huge influence on the company culture, so we're having to simultaneously work out what kind of culture we want to create!
What was your fundraising strategy? 
Naïma: Our fundraising planning began 3–6 months before we actually jumped in. It's really useful to start conversations with investors before you need money from them — which is why we were always on investor calls, even when we had very little traction. We discovered they were a lot more transparent when there wasn't added pressure to make a decision then and there. 
Here's a list of the things we did before we started speaking to investors: 
Drafted outreach emails
Created specific objectives for the fundraising round
Identified investors and angels using Crunchbase
Posted on social media
Prepared a financial model
Created a press pack
Prepared a pitch deck, data room, and one-pager
How did you find your investors?
Naïma: We made most of our investor connections through introductions. The industry is changing, but introductions are still key. Every time we spoke to someone, we'd end the call by asking, "Who should we be speaking with?" Afterward, we'd follow up to remind them. 
I didn't realize how little of fundraising is actually spent on calls with investors. The majority of it is spent following up, providing more information, and chasing a response. Investors want to see you run just as much as they want to get to know the team.
As we moved further into the fundraising round, it became less about outreach and more about managing relationships with the investors we met. We had to figure out what we wanted the final makeup to look like in terms of the percentage of angels versus VCs. 
Tell us how you crafted your pitch. Was it an iterative process or something you practiced and polished before going public?
Naïma: It was very iterative. I'm lucky that my co-founder is a designer because we'd have brainstorming sessions, and then he'd design the outcome. Afterward, we'd get feedback and make edits. We used demo days as an opportunity to practice our pitch and gain confidence. We even started over from scratch a few times — after getting the same questions from different investors, it was clear we were missing some key points. 
These points were mainly about how the product worked. We ended up adding a huge, detailed appendix at the end of our deck to explain how it functioned. This meant we could have a more substantive conversation from the get-go. 
Based on your experience, do you have any tips for other founders to succeed in pitching?
Naïma: My main tip is to start the fundraising process before you actually need to — and to practice pitching with investors who aren't your top picks. Also, follow up after every call and get feedback. I like to ask investors questions like, "What are the strongest parts of my business?" and "What are the areas that really need work?" You can even ask these questions during a call, especially if you haven't yet started fundraising. 
Practice pitching with people outside of tech to distill your pitch down to the simplest language possible. I always practice with my mom and sister to see if I'm using too many buzzwords that detract from the problem we're trying to solve. 
---
This was the first part of our Founder Q&A series. Keep an eye out for future interviews with successful founders — and in the meantime, start building your own deck with one of Pitch's free templates. Our presentation software makes it easy to quickly and effectively pitch your idea to secure investment and grow your business.