How female founders can thrive in a funding downturn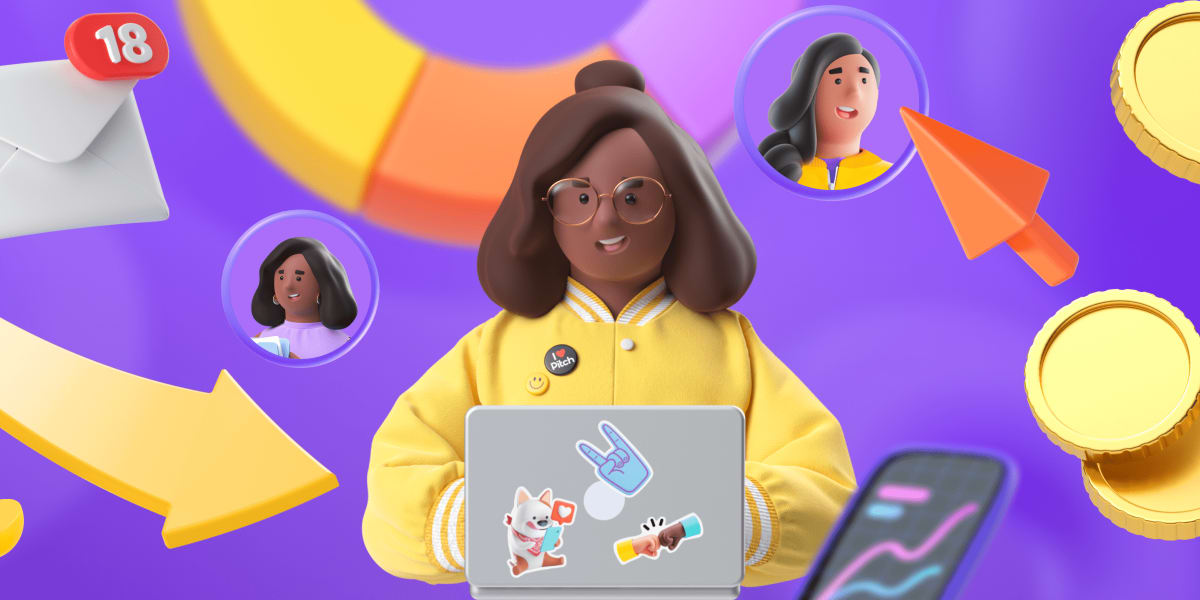 Female founders secured just 2.4% of the total capital invested in startups in the US in 2021. So for International Women's Day last year, we gathered nearly 100 pitch decks to form our Female-Founded Startups collection. Our aim was to celebrate female and nonbinary founders, and call on investors to deliver them a greater share of capital. On the occasion of IWD 2023, I'm taking a fresh look at the current state of female entrepreneurship, and the road ahead.
Over the past year, the economic climate has changed dramatically — and the numbers have gotten worse as recession-wary investors retreat into familiar patterns. In 2022, the proportion of capital invested in female-founded startups dropped to 1.9% in the US. Meanwhile, in Europe, the percentage of funding raised by women-only teams has gone from 3% to just 1% since 2020.
The numbers are disheartening, but the year ahead is full of opportunities. Here are my thoughts on how the startup landscape will evolve, and how female founders can invest in themselves — with or without the industry's support.
Lean into fundamentals over flash when pitching
Female-founded startups in the US only received 1.9% of VC funds in 2022, right? That percentage shot up to 17.2% when the team was mixed-gender. 
Founding teams with men on them receive the lion's share of investment, but it's not because their ventures are more likely to succeed. In fact, women-led businesses are usually a better bet. In 2021, they delivered 35% greater return on investment than their male-founded counterparts. 
So why have men historically won at pitching? For one, they tend to offer more sweeping visions and optimistic projections. In boom times, that worked as VCs prioritized vision over due diligence when choosing who to back. But now the tide is turning. More investors want to see revenue, resilience, and runway — and female founders' greater command of business fundamentals can play to their advantage.
It's not just that women are more competent, although there is some truth to that! Women-led teams face more scrutiny and pushback from investors during the fundraising process. This means they need to know the complexities of their strategy inside out, and how to deliver a flawless pitch that can withstand even the toughest questions.
You might have to work harder and jump more hurdles than men to win funds. But stick to the story you want to tell. It will resonate with the right investors — and when you get the capital, you'll be better positioned to thrive and succeed. 
Secure support through a like-minded network
The past few years have been a roller coaster. Global crises like the pandemic, Russia's war against Ukraine, and extreme weather events have highlighted existing problems and created new ones. Many people are turning these challenges into opportunities to build socially responsible startups — and women are leading the way. 
A Gusto survey found that 49% of 2021's new entrepreneurs in the US were women, up from 28% in 2019. Here in Germany, we're not far behind. According to a report by the German Startups Association, 42% of new entrepreneurs were women in 2022. 
It's been shown that bringing more women into the male-dominated VC culture can broaden the scope of potential investments and make a higher number of socially impactful ideas come to life. 
Some savvy firms are catching on. 
This year, Berlin's Speedinvest announced a program to back emerging VCs, at least half of which will be women or people from underrepresented backgrounds. Their first partnership is with Fund F, a €20M fund for female founders set up by the Austrian VC firm Female Founders. It joins VC funds like Pink Salt Ventures in the UK, Sista in France, and Auxxo here in Germany that have recently raised money for female-founded teams. In the US, female-led VC firms like Rethink Impact and Fabric are also driving funds toward female founders.
I've said it before, but making an effort to meet industry leaders, get good intros, and network with other like-minded female founders is so important. Seek out VC firms that are women-led or have a record of investing in women. Find a female mentor to review your pitch deck structure and give you tips on your pitch delivery. There are resources out there — take advantage of them.
Leverage your differences to shine in male-dominated spaces
It's a fact that women-led businesses have a higher success rate over the long haul. If investors were looking at the data, they'd be doling out money to female founders left and right. 
Unfortunately, as the economy turns south, most investors are doubling down on founders that look, think, and sound like them — white men with degrees from Harvard, MIT, or Stanford. In a funny but sobering article, TechCrunch refers to venture capitalists as "vibe capitalists," and I couldn't agree more.
The culprit? Bias, with a capital B. 
It's one thing to experience a need firsthand, and another to convince an audience that has no idea what you're talking about. It can be hard, for instance, to get male investors to see the potential value of ideas related to femtech or childcare. This isn't just a gender problem — when entrepreneurs pitch products targeting individuals from lower socioeconomic backgrounds than the average VC investor, it's the same story.
Addressing investor biases is necessary, but it's not a quick fix. In the meantime, you can subvert these biases by speaking to what VCs know — but from a new angle. I'd love to see more women put their own twist on traditionally male sectors and succeed. 
We're already seeing this happen in fintech. In 2022, just 6.5% of founders in Europe's leading tech vertical were women, but they raised a big portion of the most high-profile funding rounds. Yoko Spirig of Ledgy, Margot and Alexia de Broglie of YourJuno, Anne Boden of Starling Bank… they're all doing really exciting things.
Confronting biases — and the confidence gap
When we see a figure like 1.9%, it's easy to blame the system. But in reality, investment is a two-way street. Both investors and founders need to cultivate a growth mindset to effect lasting change.
So to end, let's start with you, VCs.
As the people who write the checks, you have the most power to make a difference. Investing in women is still perceived as high-risk — but as we know, the numbers clearly refute that. I've mentioned the structural bias that might be blocking your commitment to companies that have the most compelling growth potential, and leading you instead to fall back on familiar fare. 
At Pitch, we created a deck on reducing unconscious biases in hiring as a resource for other startups and teams. The learnings are equally applicable to funding situations. Confronting your biases takes some reflective work, but you can bet your bottom dollar it's worth taking a hard look at where you stand.
And female founders, as the system works toward long-term change, you can increase your chances of success by advocating for yourselves in its current flawed state.
Confidence, of course, plays a big role here. Whenever you can, ask for bigger investments. Don't undersell your company. And as someone who can decide your own salary, be sure to pay yourself fairly — a recent Sifted article reports that in 2022, female startup founders in Europe paid themselves nearly 25% less than men. 
But self-worth mantras can only get you so far when you're working in a system that's actively working against you. So take a look around — is your environment enabling you to speak up and making you feel like you're heard and respected, or is it cutting you down for having a different opinion? Do your due diligence before entering an investor partnership. Evaluate the people you're working with, and make sure they're worth your time. 
Female founders, I want to hear about your experiences! Have investors been more helpful — or absent — lately? Share your thoughts with me on LinkedIn. 
And be sure to check out our Female-Founded Startups collection for a glimpse of the great work happening. You can explore investment in these businesses via the "Get in touch" button on their Pitch profiles.