80+ product updates: Q2 in review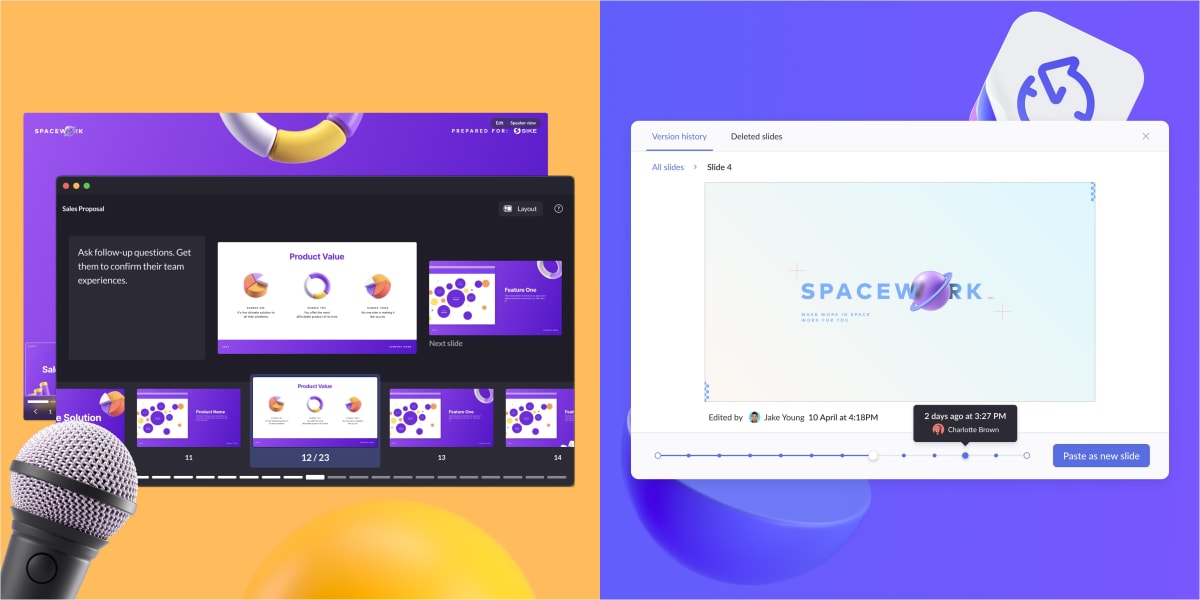 Time flies! Since April, we raised an $85M Series B, unveiled our product vision, and shipped some significant updates to how teams collaborate and present with Pitch. We also shipped 32 features and 55 improvements.
After taking a deeper look into what's most important for our users, we narrowed down our focus to four main themes: Making editing fast and easy, doubling down on collaboration, enhancing how teams consume and present content, and laying the foundation for publishing. Over the past quarter, we've made notable progress in each of those areas.
Here's a recap of the highlights and a sneak peek of what we'll be focusing on this summer. 
1. Making editing fast and easy
Everyone should have the tools to create beautiful, effective presentations. Our editing experience combines the best parts of presentation and design tools, so creating in Pitch feels familiar enough to be intuitive, yet powerful enough to inspire new ways to create.
Even more importantly, we want to empower teams to put their time and energy into what matters most — developing their ideas — instead of forcing them to waste time on formatting and finicky edits. So this quarter, we set out to improve the process of working with images, charts, and tables. 
Visuals are a central part of any presentation, no matter the topic. We want the process of adding, swapping, and editing images to be as efficient as possible. Over the past few months, we've completely rebuilt image cropping. Not only is resizing, repositioning, and replacing super simple, but we've even started to enhance this workflow with AI. With smart panning, when you replace an image, Pitch will detect the most prominent part and automatically adjust its position in the frame.
Of course, there's more to visuals than just images. If you're working on more data-driven presentations, you need charts that are easy to work with and can help you conceptualize your most important points. 
In April, we added several new charts to Pitch. With area charts, it's easy to highlight trends over time. And with stacked charts, you can compare totals and show the relationship between individual segments. And in June, we made tables more customizable. In addition to resizing individual rows and columns, cells can be individually restyled so you can draw attention to important text and numbers.   
2. Doubling down on collaboration
Our mission is to enable every team's best thinking. To do that, we have to make it easy for teams to work together and share feedback. Since April, we've given collaboration in Pitch a major upgrade. Now you can: 
Get notified about updates right from Pitch. At the start of the quarter, we introduced our notification center. Now, you can track slide assignments, comments, and presentation and workspace invites across our web app, desktop apps, and mobile apps. 
View and recover previous slide versions and restore deleted slides. Who can pass up a bit of time travel? If you're a Pro user, you can see the entire history of a slide, see who made specific changes, and copy previous versions of slides back into your deck. And since mistakes happen to the best of us, all users can view and restore previously deleted slides. 
Share presentations on the go. At the beginning of 2021, our iOS app entered beta. In May, we also released the beta of Pitch for Android. Both enable teams to review slides and share feedback, no matter where they're working. In June, we added the ability to turn on public access and share presentations using your device's default sharing options. 
Psst! We're still looking for more enthusiastic beta testers. If you're interested, fill out this form to join our mobile beta.
3. Enhancing how teams consume and present content
Presentations are an incredibly valuable way to distill information. Whether people are reviewing your presentations asynchronously or you're presenting live, you want your audience to be able to focus on the content of your message. 
In June, we unveiled a new player. It's not just a way to present — it's a whole new way to review work. Whether you're catching up on team updates or giving a sales deck a final spot check, our player offers a focused way to consume presentations without worrying about accidental edits. 
If you're checking out a teammate's deck, you can use the player to give your full attention to their work, while also having space to view and add reactions and comments. 
And when you're ready to present, you can minimize the player controls and open speaker view. This way, you can still see your slides and speaker notes all in one place, while keeping them safely out of your audience's sight. 
Our immersive player experience is also available from public presentations, and will soon be available from presentation embeds. So no matter where and when people review your work, you can be sure it will always look its absolute best. 
4. Laying the foundation for publishing
Our vision is to build the first complete platform for presentations. In support of that, we're creating an ecosystem where anyone around the world can publish and exchange presentations and templates. 
In June, we introduced creator profiles, dedicated pages where creators and brands can showcase their best templates and presentations to the world. 
Our first 25 creators are experts across topics like user research, fundraising, sales, and design. You can get to know them and start building with their templates from the template gallery. 
In the coming months, we'll be recruiting new creators to showcase their storytelling skills and establish a professional profile on Pitch. If you're eager to reserve your handle on Pitch and want to participate in our publishing beta, you can apply here. 
Q3 preview: Improving the presentation workflow
We're creating a space where anyone can discover, create, collaborate on, present, and publish their best thinking. 
When we announced our Series B funding, we highlighted several ambitious undertakings we'll be focusing on to help bring our vision to life. But what makes Pitch special isn't any one feature — it's our ability to make the entire process around presentations fast, beautiful, and joyful. 
In Q3, we'll continue to balance our big bets with foundational features and quality-of-life improvements. If you've been using Pitch for a while, you'll definitely appreciate updates like: 
Fine-tuning the import and export experience: We're working to bring our PowerPoint importer out of beta by making sure it's able to optimize your existing decks for Pitch. (That also means we'll be able to look at how teams can export .pptx files out of Pitch.) And we're making our PDF exports smaller, so you have no issues emailing files. 
Improving core parts of the editing experience: Our product team is working to overhaul our text editor to support future features and allow us to make real-time co-editing even more powerful. And much-requested features like grouping are also in development. 
More integrations, embeds, and stickers: We're getting close to introducing our third integration, which will help subscription businesses keep tabs on their revenue data. Plus we'll be introducing additional embeds, and adding more stickers to reflect a broader range of visual styles. 
There's a lot more on the way! Follow our release notes page to see what's new, or join the conversation in our Slack community to get an early peek at what's next and share your feedback.