How do we continue bonding as a team now that we don't see each other as regularly? It's a question that's been top of mind for us at Pitch. While we've always been remote-friendly, and most of us worked at least some days (if not all) outside of the office before the pandemic even began, the changes in the way we work have affected how we connect as a team, and a company.
It's forced us to think about new ways that collaborating and team bonding can work — asynchronously and remotely. One of the biggest things we've realized is that it's not just about applying the way we used to work in the office to online settings, but about finding truly remote and async-first ways of working and collaborating. In this post, we share a few ways we've found to come together virtually in team bonding and new employee onboarding.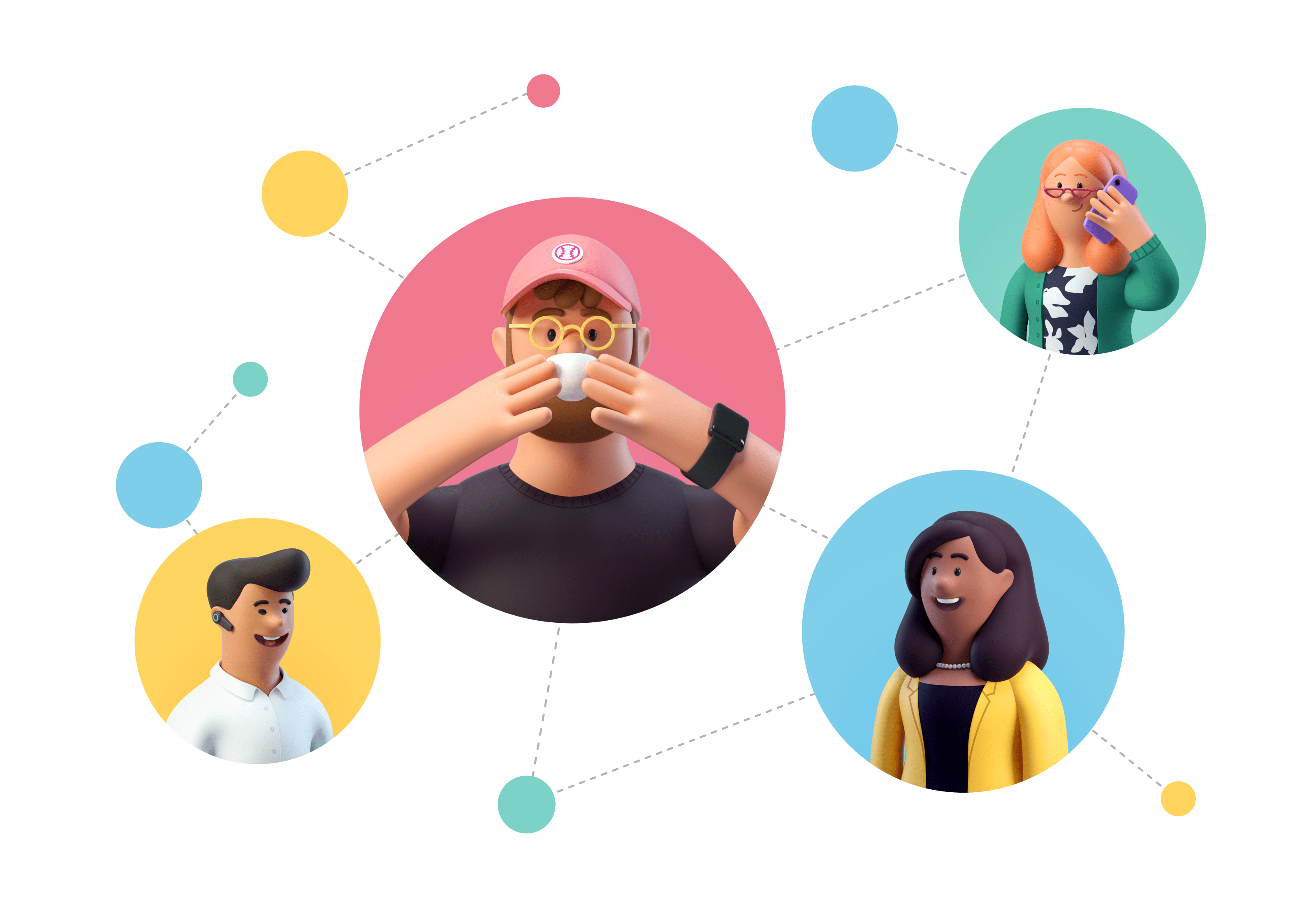 Running a virtual offsite with Pitch
One of the moments when this became apparent for us was while thinking about how we could run an effective (and fun!) offsite. We remembered how some companies that we admired were coming up with cool and creative ways to conduct virtual offsites, like what Brex did with Figma.
We're always looking to push the boundaries of how we can use our product and find new and creative use cases outside of those that decks are typically used for; so, with this inspiration in mind, the very first Pitch Virtual Offsite deck was born.
The deck was designed to help us get to know each other better outside of work. Although there are some design-related questions, most are about the little-known fun facts, from niche hobbies to impressive talents. We found out one of our teammates opened for the Vengaboys as a teenager, and another lived in Zimbabwe for three years.
We took advantage of Pitch's collaboration features to communicate and and work on the same deck, and in the process, we learned a lot of things about each other that wouldn't typically have come up during our normal workflow. It turned out to be such a success that other teams — like engineering and marketing — have adopted it for their own virtual offsites.
Some more ideas for how to bond async:
Everyone records a video to give a tour of their own house or working space, like MTV Cribs.
Beyond beer pong: A fun list of online party games where you can join in remotely.
Gift exchange: Set a price limit and assign everyone a different team member for a mystery gift exchange. Send to remote workers via international post.
QuizBreaker: Team members privately answer a set of questions. Afterwards, a quiz goes out where everyone tries to guess who asked what.
Putting a face to the name: New employee onboarding with Loom
We've had 18 new employees start since the beginning of the year (and we're still growing — check out our open positions). First days at a new job can be intimidating — even more so if you're joining a company without actually having met anyone face-to-face. It's amazing that technology enables us to do so much online, but first impressions over chat only go so far.
That's why we have all of our new employees make a short video introducing themselves. We include them in our weekly bulletin so that everyone has a chance to "meet and greet" their new teammates. It really helps putting a face — and a smile! — to a name.
Another challenge for new employees is knowing how to get acquainted with all the information. Especially in remote organizations, which are often designed to have everything available, the hardest part can be knowing where to start. To make it easier for new employees, we began creating onboarding decks to help them get acquainted with everything at their own pace. They help us organize information and share links to the most relevant resources across the different tools we use, from Notion and Pitch to Figma and Slack.
New employee FAQs
Our "Welcome" page in Notion is another helpful way we create a central location for the most important information for new employees. This page originally started as a way to house important docs, like how to set up your hardware and software, or an overview of who's who in the company. Over time, it's grown to include everything from a (very detailed) guide to using the espresso machine, to how we do meetings, introduce new software, and take sick and vacation days.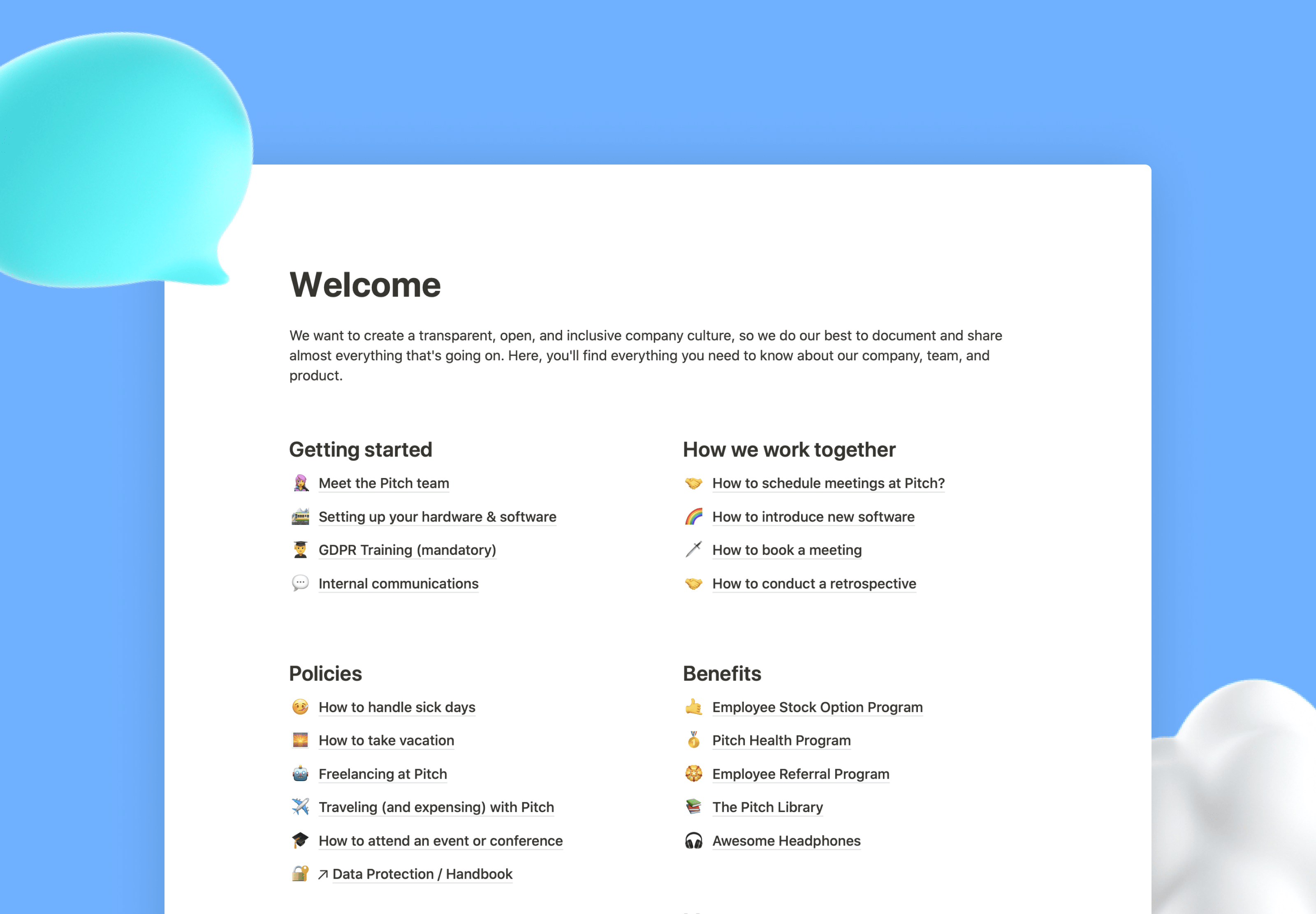 We always want employees to feel comfortable to ask questions, but sometimes it's easiest to answer the most frequently asked questions up front. This helps us stay transparent as an organization while giving everyone the information they need to work effectively at Pitch.
Conclusion
2020 has forced teams of all sorts and sizes to adapt to new ways of working. In addition to the adjustments we've needed to make as individuals to work from home effectively, together we've needed to find new ways of building a remote company culture and bonding as a team. Being apart hasn't stopped us from working and bonding together. In fact, it's encouraged us to find new ways to stay close, all the while testing our own product and pushing its boundaries as a tool just for internal knowledge management and collaboration.