How 4 teams create winning sales presentations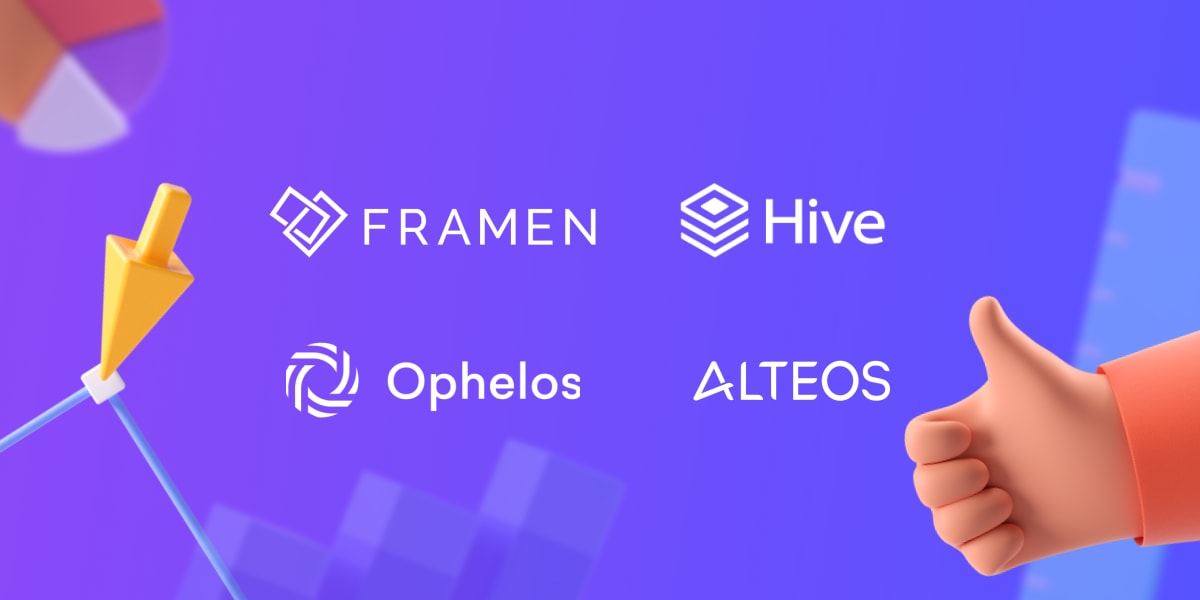 When it comes to sales, time is money. And the last place you should be wasting your time is creating your presentation. In this post, we'll hear from sales teams at four different companies and learn how they use Pitch in their day-to-day workflows to make the process of building sales presentations more efficient, and even enjoyable.
As a salesperson, you're likely familiar with the scrambling and searching that comes when you set out to build a sales presentation. You need the right slides and you need them fast. But where are they? And who has the latest version of the brand guidelines? Where do you even start?
And even after getting started, the process doesn't get easier. Collecting feedback from other stakeholders and getting to a final draft is a pain. Once you're ready to present, you've got to figure out the best way to share your deck with clients in a way that's easy for them to digest and understand.
Stop getting stuck searching for the right slides
Paul Thümer, the Head of Sales at Framen, readily admits he isn't a presentation builder. He likes to use presentations in his day-to-day work, but the idea of actually building them himself is exhausting. He still remembers what life was like before the Framen team started using Pitch.
"Everybody used different tools. It was really chaotic," Paul says. "It was hard to collaborate from different locations together. Downloading and sending files was tedious."
Dominik Wittenbrink, who leads the sales team at Alteos, can relate. His team faces the added challenge of selling B2B2C. Instead of selling directly to customers, they sell via partners, which means there are tons of possible starting points, and salespeople are often confused where to begin.
"Our PowerPoint slides were everywhere. Somebody moved something and you found nothing," Dominik says. This is a common problem for many teams: It's hard to find the latest version of slides, especially when they're spread across different folders and tools. In Pitch, all of a team's presentations are centralized inside of workspaces and organized in folders.
Since Dominik's team switched to Pitch, all their decks are in one place and easy for everyone on the team to locate. "We finally have a single, centralized presentation version that we can easily duplicate to adjust content," he adds.
Create customized decks that are on brand every time
Another challenge is the need to create custom decks for each prospect while still ensuring they stick to your company's style guide. Who has time to fiddle with fonts and colors when you need to get a sales presentation ready and you're scrambling for time?
Peter Krämer, Marketing Designer from Alteos, shares how he uses presentation templates and styles in Pitch to make sure their sales presentations are on brand, every time.
"Using our newest branding I created one sales presentation in Pitch that we could adapt for different use cases," he says. "Then, I made one for every product we offer using the same styles. Now every sales rep has their own folder, and if they want to add a new slide, they know where to find it."
Framen also appreciates the option to easily duplicate and customize presentations. They created all of their workspace templates in English and German and regularly update all of the templates whenever their sales team needs a new slide layout. All sales managers then use the provided templates and customize the content to their needs.
"Before, when we were using PowerPoint or Google Slides, we were making generic presentations," Paul says. "Generally, if you tailor each presentation to a client's brand and business, negotiation goes better and you win more business. Thanks to Pitch, we can use templates to ensure all of our presentations look alike, while customizing them to each client."
Amon Ghaiumy is a co-founder of Ophelos. Like Alteos and Framen, their startup's 25-slide sales deck template is styled according to their brand guidelines, and then the content is continuously updated by Amon and his fellow co-founder.
They work to ensure their templates are kept up-to-date so they contain the most relevant information. For example, whenever they see a slide appearing in other presentations more than three times, they add it to one of the templates.
"We enjoy collaborating with comments, slide assignments, and statuses to improve the template together," he says.
Meet clients where they are with flexible sharing options
After a sales presentation is ready, the time comes to share it with the world (or, at least potential clients). But every company and team has a different workflow and preferred way of receiving presentations, which means precious time is wasted just trying to get a sales presentation in the hands of prospects.
Send a good ol' PDF
Some customers are not ready to explore new tools, and they prefer the traditional PDF. The team at Hive takes this workflow to the next level. Not only are they using Pitch to share and present proposals to clients; they also seal the deal on slides. They add contractual slides with conditions and signatures to the client's individual Pitch presentation and export it so the proposal becomes a binding legal document. Then, they send the PDF to clients to sign. 
Share via email or link
While PDFs are great in some cases, they are still static documents, and depending on the amount of images in your deck, they can become quite heavy. In order to keep documents lightweight while making sure all video and embedded visuals move as they should, sales teams that use Pitch are able to share via link or email.
Present live with live video collaboration
Other teams prefer to control the narrative and see how clients react as they walk them through slides in real time. At Framen, they often present their Pitch decks on a Zoom call. At Alteos, they meet customers in Pitch using live video collaboration. They invite customers to join in on sessions and make changes directly on the slide, together.
So, what's the bottom line?
As a sales person you probably measure impact through numbers. While it's difficult to calculate the precise ROI of better presentation software, we asked these teams: How does Pitch impact your sales process or customer success? Here's what they had to say:
"We're getting a lot of positive feedback on our sales presentations. Just today a CEO of one company said that the presentation looked intuitive and it flowed."

— Dominik from Alteos

"Pitch is a good-looking, modern tool, which helps us present how we tackle the D2C logistics in a modern way. It helps us bring our mindset to our customers."

— Lukas from Hive

"Without Pitch, we would spend a lot more time on presentations, and our decks would not look as good. So we definitely save a lot of valuable time in comparison to other tools."

— Amon from Ophelos

"Having other stakeholders involved in Pitch helps us close more deals, especially because we are able to create a big number of customized presentations in a short time, which give us the competitive advantage to move faster and attend to more clients."

— Paul from Framen
There you have it: an inside look at how teams from four modern companies are driving more value and increasing sales wins using Pitch.