From surviving to thriving at work in 2022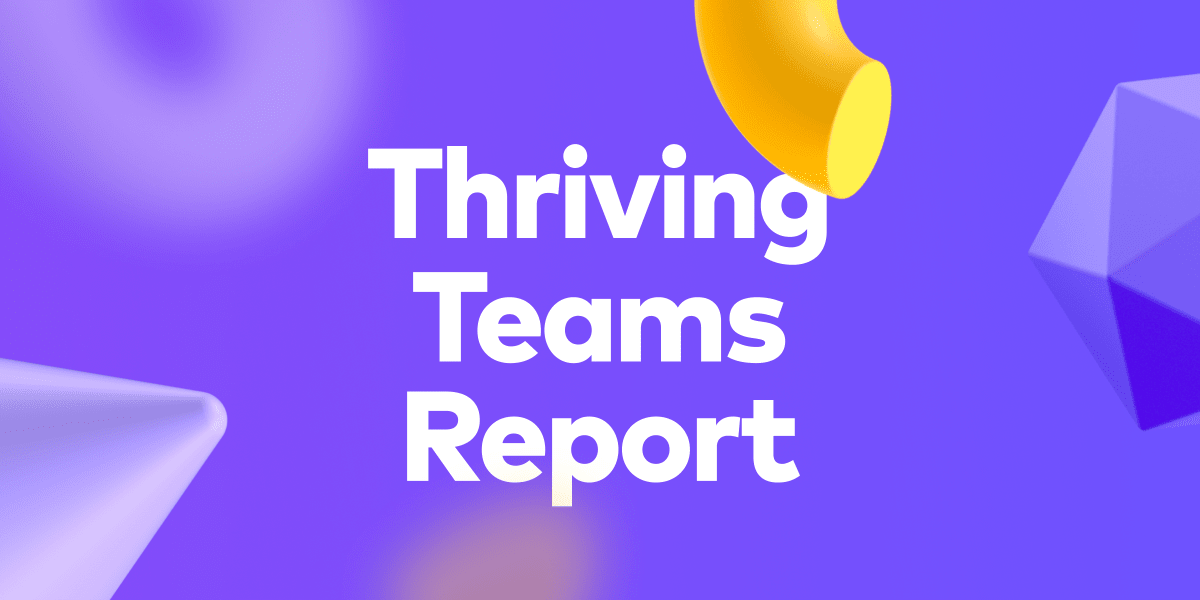 The past two years have changed the nature of work for many of us, and 2022 is set to bring more change. Enabling teams is the core of our mission at Pitch, so we conducted a survey to help managers and team members find ways to thrive over the next year.
We polled 2,000 digital workers in the US and UK to uncover how they're coping, their expectations for the year ahead, and what sets thriving teams apart. We've published our findings as the Thriving Teams Report in our new presentation gallery. Highlights below.
Work's new normal isn't so bad
Our survey asked respondents to paint a picture of what work is like for them, and to assess how things had changed since the start of the pandemic. We were surprised by what we uncovered:
Teamwork and communication are the strongest aspects of work right now.
Most aspects of work haven't gotten better or worse since the pandemic started.
Workers were over three times as likely to report positive changes (vs. negative ones).
Work is now more flexible than ever — particularly for remote and hybrid workers. They told us they'd gained the most freedom in their workplace location, their interactions with family and friends, and their workspace setup. 
There are many reasons for optimism: More than four in five workers told us they have a clear understanding of their roles, feel strongly connected to their teammates, and feel free to express themselves with teammates and leadership. For leaders worried about declining engagement, that's cause for a sigh of relief.
Room for more freedom and support
However, many digital workers still say they're missing key freedoms. Only half of respondents said they can choose their software, and only slightly more (60%) said they have control over the meetings they attend. 
There also wasn't much consensus about whether workers' growth mattered to leadership: 33% of respondents told us their employer didn't care about the trajectory of their career.
The silver lining here is that the pandemic hasn't worsened these aspects of work, so they remain within leaders' control to improve. There was just one aspect of work that more workers said had gotten worse (vs. gotten better): opportunities to socialize and bond with their colleagues. 
Gaps between leaders, teams and genders
Our survey showed considerable diversity within digital workers' feelings toward their jobs. One of the most notable differences we found was between leaders and team members: Leaders feel more empowered than their teams. 
From choice over tools, meetings, and location, to the support they feel from their employer to grow and take risks, respondents with the title of Director or above were 30-70% more likely to rate aspects of their work experience positively than those with less senior titles.
Workers' experiences also differed by gender, with men being 20-30% more likely than women to report that they feel supported, able to take risks, and able to bond and express themselves. Socializing and strengthening team bonds represented the biggest gender-based difference: only 52% of women said they could do so, compared with nearly 69% of men. 
For leaders seeking to engage their teams in the year ahead, the message is clear: Focus on making everyone's work experience more free and equal.
What digital workers want next year
In the final part of our survey, we asked workers to rate their priorities at a personal, team and company level as they related to a successful 2022 at work. Here's what we found:
Better control over schedule and reachability is the highest personal priority.
Workers care about preserving the strength of their team communication.
Workers want to know their employer will keep caring for their health and well-being.
Taken together, workers' 2022 priorities reflect the persistent pressure and uncertainty of COVID. They want control over their workdays that better aligns with their more remote, asynchronous reality, they want to preserve the strength and health of their teams, and they want assurances that their employer will be there for them as the world navigates its way out of the pandemic.
What sets thriving teams apart
One of the main goals of our survey was to explore the drivers behind teams that are thriving. To do that, we first had to create a definition. We went about this by looking at the subset of respondents who answered positively to all 23 questions about engagement at work, and then comparing them against the corresponding group that didn't. 
We found that thriving workers are much more likely to be able to choose their tools, develop leadership skills, and have opportunities to bond with their colleagues.
Thriving workers are much more likely to feel support from their employer in growing and taking risks, and they're more likely to have faith in the leadership team.
Some aspects of work weren't at all correlated with thriving. Most notably, we found that the office isn't a make-or-break factor for thriving at work. Our respondents were just as likely to thrive in remote, hybrid and in-person setups. None had a clear advantage.
For leaders who have been reading the headlines about the Great Resignation, that should come as welcome news, but it's not an opportunity to invite everyone back to the office. Workers clearly have strong preferences toward where they work, as survey after survey has already shown, and future changes in workplace policy should always be carefully considered.
New Year's resolutions for leaders
🛠 Help your teams address lack of choice, freedom and equality at work.
⚕️ Focus your attention on your teams' health and growth.
🚀 Create space for your teams to take risks, and invest in their development.
💼 Your office policy isn't a solution for driving engagement.
Check out the full Thriving Teams Report below for more detailed insights, and if you're a leader with a story to tell around how you helped your team thrive, or you'd like to learn more around how Pitch can enable your team's best thinking, get in touch with us on Twitter.